Concrete Canoe Takes Third Place in National Competition
By Marcia Goodrich | Published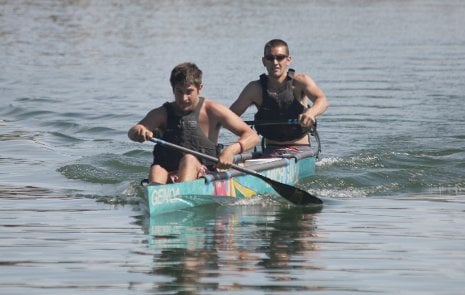 Michigan Technological University's Concrete Canoe Team team brought home the bronze from the 2012 American Society of Civil Engineers National Concrete Canoe Competition, held June 14-16 at the University of Nevada–Reno.
Their third-place finish equals Michigan Tech's best previous showing, in 2005, at the national level. Advisor Bill Baxandall, an adjunct professor of civil and environmental engineering, chalked it up to determination. "They just wanted to prove that we could produce an outstanding canoe, and they sure did that," he said.
Competitors build a canoe from concrete that must be light enough to pop to the surface after being completely submerged in water. Entrants are judged in three academic categories—paper, presentation and product display—as well as on their racing prowess. According to ASCE, "The event challenges the students' knowledge, creativity and stamina, while showcasing the versatility and durability of concrete as a building material."
Mechanical engineering major Bradley Johnson has been a team member for three years and will be the senior co-captain in 2012-13. "It was a great time," he said. "We were second in the presentation category, tying the best Tech has ever done. The presentation team of Cassandra Kussow, Meghan Schiber, Sheridan Ethen and Mike Zukoff performed flawlessly with a flowing presentation and an excellent demonstration of knowledge about the workings of the team and canoe. One of the judges is one of the premier concrete people in the nation. She asked a very technical question, and Meghan answered it and just knocked it out of the park."
The team also placed second in judging in the special best final product catagory, equaling the University's best finish.
The Tech canoe, named Genoa after a type of sail, attracted plenty of attention.
"Everyone was asking questions about our design," said Johnson. "We wanted a fast hull that could turn well, so we looked at everything from racing canoes and kayaks to the body shapes of fish." Eventually, they settled on an 18-1/2-foot-long hull with a bulge in the middle. It provided more stability and was more ergonomic for the paddlers. "In the coed sprint race, the girls were in the middle, and this design let them get more power from their paddle strokes," he said.
The team's excellent showing stemmed from two qualities, according to Johnson: hard work and diversity.
"It's very much a team where you get out of it what you put into it," he said. "And we pride ourselves in having a diverse group of majors, from nearly all the engineering fields. We get lots of different ideas, and that's helped us progress."
Johnson isn't the only mechanical engineer on a team that would typically attract civil engineering students. As it turns out, his major had little to do with his decision to spend many hours of his free time building a concrete canoe.
"I like boats, I like getting outside, and when I joined the team, I never left," he said.
California State Polytechnic University won the competition, with Universite Laval placing second.
Michigan Technological University is a public research university, home to more than 7,000 students from 54 countries. Founded in 1885, the University offers more than 120 undergraduate and graduate degree programs in science and technology, engineering, forestry, business and economics, health professions, humanities, mathematics, and social sciences. Our campus in Michigan's Upper Peninsula overlooks the Keweenaw Waterway and is just a few miles from Lake Superior.