Swimming in It or Drinking It, Water Beckons Graduate Student
By Jillian Schwab | Published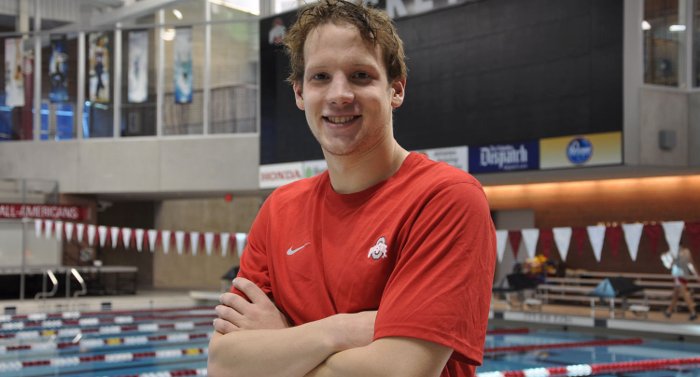 Graduate student Ben Savonen knows a thing or two about the importance of water. As a competitive swimmer and former captain of the varsity swim team at Ohio State University, where he earned his bachelor's degree in mechanical engineering, he spent a lot of time in and around it. As a Peace Corps Master's International student at Michigan Technological University pursuing a master's degree in environmental engineering, he's studying water resources and purification techniques.
He also knows how fortunate he is. Approximately 1.1 billion people worldwide do not have access to clean drinking water, and 2.5 million people die every year due to easily preventable waterborne illnesses, the majority of them children younger than five.
While attending Ohio State University, Savonen's graduate school preparation studies last April inspired him to organize a twelve-hour continuous swimming relay called Water to Water: A 12-Hour Swim for Pure Water. Members of the school's swim team swam laps in 30-minute shifts to raise awareness of the global water crisis. Several volunteers also joined the effort, either by taking the plunge themselves or giving out bottled water along with information about the event.
The swimmers' laps totaled an impressive 140.4 miles, raising about $2,600 to provide clean water and education about health and sanitation practices for a school in Cameroon. Savonen and his team worked through a nonprofit organization called Thirst Relief International, which aims to improve access to safe drinking water in impoverished rural areas and urban slums around the world.
Following the huge success, Savonen is planning another Water to Water event for spring 2012, this time reaching out to multiple universities and club swim teams to join the cause. "The idea is that the teams can compete against one another and see which team can swim the farthest," Savonen says. He also hopes to get an Olympic athlete or two involved. The event is still in the planning stages.
Why did Savonen choose Michigan Tech for his graduate studies? "I was born and raised in Monroe, Mich., but I come from a proud family of Yoopers," he says. He was also attracted by Tech's Peace Corps Master's International program, which integrates a master's degree with service in the Peace Corps. Michigan Tech is the nation's largest PCMI campus, offering degrees through the program across eight fields.
Savonen is scheduled to begin his Peace Corps service in Tanzania in June 2012, where he will continue helping people obtain access to safe water.
Michigan Technological University is a public research university, home to more than 7,000 students from 54 countries. Founded in 1885, the University offers more than 120 undergraduate and graduate degree programs in science and technology, engineering, forestry, business and economics, health professions, humanities, mathematics, and social sciences. Our campus in Michigan's Upper Peninsula overlooks the Keweenaw Waterway and is just a few miles from Lake Superior.