Statues Stand Tall In Spite of Weather Warm-up
By Danny Messinger | Published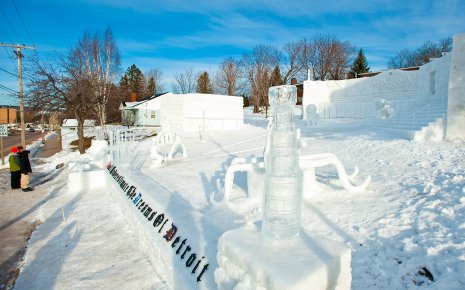 It's the question that's been on the minds of students and community members for the past month: would the balmy weather spell disaster for snow statues at Michigan Tech's Winter Carnival? In short—no.
Now, with up to a month of construction behind them, statue builders can admire their snowy creations—this year with an extra bit of pride for conquering Mother Nature's unexpected warm-up.
"With a lack of snow, we definitely had a hard time with construction," says Eric Lindholm, Sigma Phi Epsilon president. "We were doing well for the first two weeks of the semester, but with the late warm spell we had last weekend, we had some major setbacks."
Tim Richmond, Sigma Phi Epsilon statue co-chair, said his brothers have had to get a little creative to make sure the warm-up didn't result in a lack of solid ice detail-work. Since Richmond's fraternity stores all of its completed ice-work outside, he said their stockpile was almost a complete loss with last week's 40-degree-temperatures.
"Now we're just freezing water in whatever we can," he said the day before statues were to be judged. "Pots, pans, trays…anything. We made a list of what we wanted to have out there for judging, and we'll see what we get."
"With the weather, everyone else has had some setbacks, too," Lindholm added.
Amanda Beam, statue chair for Alpha Gamma Delta, said her sorority's statue construction had been hit just as hard because of the weather.
"We cancelled more than half of our construction shifts because it was just too warm to build," said Beam. "We wanted to build our back wall higher, but we had to cut back a bit and change our plans so that we can still try to finish on time."
During the All-Nighter, Beam's team wasn't sure if their setbacks would mean an incomplete statue when the judges strolled by with clipboards and scorecards in hand at 7 a.m.
"We'll see if it gets done," she said. "If we had done the full statue—gone with the original plans—there's no way we would have finished. I think we'll be fine, though."
Not everyone building a statue had to worry about the warm-up. In fact, conditions were nearly perfect for one-night statue construction.
"It's got to be cold, of course," said Jordan Marlor, statue chair for Keweenaw Pride's one-night statue. "It could always be colder, but we're doing fine. The snowplow driver who brought us a big load of snow packed some of it down, so we already have a nice base."
As thousands of students began to head home and the thumping bass from the annual mid-campus dance party dissipated, builders stayed hard at work on their construction sites until the sun came up to make sure their statues were just as awe-inspiring as every year before.
Now, with the 2012 All-Nighter crossed off the Carnival calendar, the number of impressed tourists—and Tech natives—touring the towering statues finally quelled the worries of weather-watchers. The late nights, cold fingers, and sore muscles of Tech students have paid off in a big way.
Even when Mother Nature throws a curveball, Michigan Tech students know how to show off what makes our state so great.
Michigan Technological University is a public research university, home to more than 7,000 students from 54 countries. Founded in 1885, the University offers more than 120 undergraduate and graduate degree programs in science and technology, engineering, forestry, business and economics, health professions, humanities, mathematics, and social sciences. Our campus in Michigan's Upper Peninsula overlooks the Keweenaw Waterway and is just a few miles from Lake Superior.