Phi Kappa Tau Takes First in Fraternity Statue Competition; Theta Chi Epsilon Tops Women's Groups
By Dennis Walikainen | Published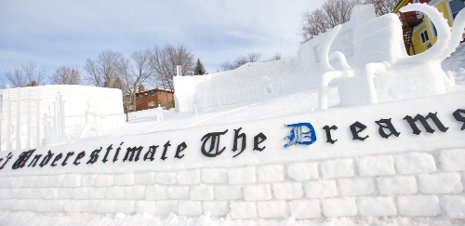 A salute to Motor City sports teams carried Phi Kappa Tau to first place in the fraternity division of the monthlong snow statue competition at Michigan Technological University's 2012 Winter Carnival. "Don't Underestimate the Dreams of Detroit" was the title of the huge sculpture that featured three of Detroit's sports teams and their stadiums. The Phi Taus are located in Hancock. This is the fifth year in a row that their statue has taken first place.
An iconic Detroit business was the focus of the second-place Delta Sigma Phi statue. Their "Ford's Progression in Icy Succession" depicted the evolution of Ford Motor Company. All of the statues had to follow this year's Carnival theme: "From All Over the State, What Makes Michigan Great." The Delt Sigs' statue is located next to Wadsworth Hall in Houghton.
Third place in the fraternity division went to Tau Kappa Epsilon. Their statue, next to the Administration Building, is titled "Cider Pressing is Michigan's Blessing." Sigma Phi Epsilon's statue--built between the Chemical Sciences and Engineering Building and the Electrical Energy Resources Center--took fourth place with a tribute to Michigan's timber industry.
Rand Lindner, a member of Phi Kappa Tau and a software engineering major from Manitowoc, Wis., said the recent weather didn't cooperate for statue building. "It was hot, then cold, hot, cold," he said. "It was a challenge, but we got everyone out at once and got it done last night."
He said they chose the sports theme because they could focus the three back walls of sculpture on the three sports venues: Ford Field, Comerica Park and Joe Louis Arena. They then filled in details in front, including a clear-ice Stanley Cup, hockey sticks, MLB trophy, octopus, and more.
Among the women's groups, Theta Chi Epsilon's dynamic sculpture of the Quincy Mine, built in front of the Van Pelt and Pie Library, took first place. Their title is "In This Cavern You Will Find, Precious Copper to be Mined."
Alpha Sigma Tau placed second with "Beheld in Michigan's Snowy Plot are Sights We All Love to Spot," showing highlights from around the state. Delta Zeta took third with "Rich History and Yummy Treats Mackinac Island Sure is Sweet." Delta Phi Epsilon was fourth with the clever "Winter and Construction are Michigan's Only Two Seasons So We Combined Them in One for Exactly that Reason."
The Northern Alliance took first-place honors for residence halls, depicting the outside of Comerica Park. Mama's Boys were runners-up with Summit and WIE in third.
In student organizations, the Air Force ROTC's rendition of the Grand Haven lighthouse placed first, with Campus Crusade for Christ and Army ROTC taking second and third.
In the all-nighter competitions, Tollhouse won for residence halls, showing the two-hands depiction of Michigan. National Association of Home Builders took first for on campus organizations, with an ore car full of copper, and Good Shepherd Lutheran topped the off campus category with a Ball Jar sculpture and "God Preserves Us All."
Some 67 statues arose around the campus and surrounding towns, and the judges praised students and community members for persevering despite the warmer-than-usual weather, which hampered statue building.
Michigan Technological University is a public research university, home to more than 7,000 students from 60 countries. Founded in 1885, the University offers more than 120 undergraduate and graduate degree programs in science and technology, engineering, forestry, business and economics, health professions, humanities, mathematics, and social sciences. Our campus in Michigan's Upper Peninsula overlooks the Keweenaw Waterway and is just a few miles from Lake Superior.