Michigan Tech Board of Trustees Approves 2013-14 Room, Board, Rental Rates
By Jennifer Donovan | Published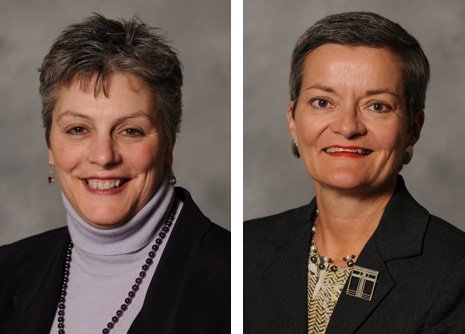 At its regular meeting on Dec. 14, 2012, the Michigan Technological University Board of Trustees approved room and board and apartment rental rates for the 2013-2014 academic year.
Room and board rates for a standard double occupancy room with the gold (median) meal plan for rooms in Douglass Houghton, McNair, and Wadsworth Halls will increase $310 or $10 per week for the 2013-2014 academic year. Hillside Place Apartments residents will also see an increase $310 for the next academic year. Daniell Heights Apartments student residents and/or families will see a monthly rental increase of $30 for a one-bedroom, $35 for a two-bedroom, and $45 for a three-bedroom apartment.
"Michigan Tech is committed to providing exceptional facilities and an aesthetically pleasing on-campus community that values academic success and friendship," said Les Cook, vice president for student affairs. "That commitment includes high quality and diversified dining and housing alternatives in a safe and comfortable environment."
The Board also approved a proposal by the School of Business and Economics to create a new Bachelor of Science in Management with a Concentration in Supply Chain and Operations Management. The degree is a spin-off of the existing Bachelor of Science in Operations and System Management and is designed to better align the education students receive with the needs of employers.
In other business, the Board:
Passed resolutions in appreciation of Kathryn Clark and Martha Richardson, retiring Board members. Clark served on the Board for 12 years, and Richardson served for eight years. Each chaired the Board for two years.
Granted emeritus status to three retiring professors: Neil J. Hutzler, Department of Civil and Environmental Engineering; Larry Lankton, Department of Social Sciences; and Clark Givens, Department of Mathematical Sciences.
Appointed Rush Robinett III as a professor with tenure in the Department of Mechanical Engineering-Engineering Mechanics, effective Feb. 3, 2013. Robinett has been with Sandia National Laboratories since 1988.
Approved changing the names of three degrees: Master of Science in Environmental Policy to Master of Science in Environmental and Energy Policy; Bachelor of Arts in Liberal Arts with a Concentration in History to Bachelor of Arts in History; and Bachelor of Science in Clinical Laboratory Science to Bachelor of Science in Medical Laboratory Science.
Endorsed a proposal by the Rozsa Center for the Performing Arts to submit a grant proposal to the Michigan Council for the Arts and Cultural Affairs. The funds would support two performances of Shakespeare's As You Like It—a live public performance and a community outreach performance performed by the award-winning touring performers, The Acting Company.
Michigan Technological University is a public research university, home to more than 7,000 students from 54 countries. Founded in 1885, the University offers more than 120 undergraduate and graduate degree programs in science and technology, engineering, forestry, business and economics, health professions, humanities, mathematics, and social sciences. Our campus in Michigan's Upper Peninsula overlooks the Keweenaw Waterway and is just a few miles from Lake Superior.