It's Nothing Like Home, but You'll Like It Here: Recruiting International Students
By Dennis Walikainen | Published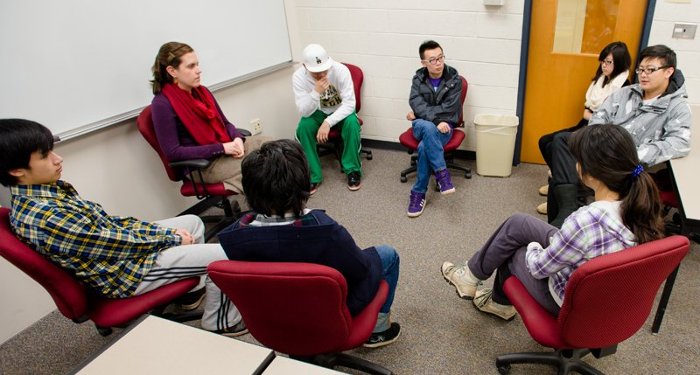 Michigan Technological University has a long history of recruiting students from other nations. Michigan Tech's current international student enrollment is its largest ever—1,024—nearly 15 percent of all students on campus. And several programs are adding to that legacy, according to Thy Yang, director of International Programs and Services (IPS).
One of the newer programs partners with Brazil, she says.
"We are involved with Brazil's Science without Borders program," Yang explains. "Currently, we've got 10 students on campus who are getting all tuition and room and board paid by the Brazilian government for one year, to see if Tech is right for them."
Under the program, students must choose from schools that focus on STEM (science, technology, engineering, and math), and they must have a high level of proficiency in English.
"They come as undergraduates, but they can return as master's students, if they like what they experience," Yang says.
School of Technology faculty member and Brazilian native Aurenice Oliveira is helping with the program,. Oliveira says it is relatively easy working with the students, as "they are highly selected in Brazil," before coming to Tech, where they face a much different academic and social culture.
"Brazil has very few small college towns," Oliveira says. "Most of their universities are in big cities, and then there's all this snow here, of course."
She's helped recruit students from Brazilian universities for several years now, and she's had friends and graduate students assisting IPS at college fairs in Sao Paulo and Rio de Janeiro, discussing the differences in academics here and there.
"Brazil stresses exams more," Oliveira says. "They give fewer assignments, unlike here where the exams are shorter, but there are many more homework assignments."
Brazilian students take a five-day common entrance exam just to qualify for universities, she says, similar to students in India and China.
Many Students from China
Speaking of China, it remains Tech's greatest international success story. This year, 230 graduate students and 236 undergraduates are enrolled, making them the third largest student population on campus. And that ratio of graduate to undergraduate students is unusual, Yang says.
"In tech schools, it is predominately graduate students coming from China," she explains. Yang has just returned from a visit to Beijing, where they had a predeparture session at the US Embassy, prepping the students for the move. Tech has other programs in place to help students succeed, Yang says, such as English as a Second Language (ESL).
At a recent 8 a.m. session, seven Chinese students seemed eager to learn in Clare Zuraw's ESL writing class. First, she had them warm up by combining a couple of sentences using "which" or "where." One student wrote: "New York City, which is often called the Big Apple, is known as a cultural center of the US."
Next, in a discussion circle led by management major Xiao Luo, they debated: "Should science majors pay less for tuition than art majors?"
Their answers reveal their reasons for choosing Michigan Tech. "I chose economics because I am interested in graduate school here," says Shang Gao. "I chose mechanical engineering because I don't like business," Hao Qin remarks. Around the circle they go. Influencers include their parents, friends, relatives—and the bottom line.
"I would like to go into hotel management in graduate school," says Ya Luo, a management major. He Xuan wants to be an architect, thus her civil engineering major. A master's degree is in her future, too, she says.
"Tech is kind to international students," says Chenxi Wu, an environmental engineering major. "It is progressive. They help international students with their studies."
The Chinese students also chose this home a long way from their home because it is peaceful, and they can study here. It is great, "except for the weather," says Wu.
There is a long tradition of Chinese students attending Michigan Tech. The Chinese Student Club existed in 1916. The current group of students was surprised and pleased by that fact.
Successful Thai Recruiting
More and more students are coming to Tech from another part of Asia, through the pipeline the Graduate School has created with Thailand. And, it's come a long way in a short time.
"We have 14 Thai graduate students on campus," says Jacque Smith, director of marketing for the Graduate School. "That's up from zero in the mid-2000s."
Smith relies on alumni in Thailand and current students at Tech to help bolster enrollment from that Southeast Asian nation.
Recruiting in Thailand this fall, he attended the Royal Thai Scholars Placement Day Event, where 250 of Thailand's best and brightest students check out graduate schools from around the world.
"As a Royal Thai Scholar, they receive full tuition and stipend from the government for whatever university they choose to attend," Smith says. "Routinely, the government is targeting the STEM [science, technology, engineering, math] disciplines for their scholarships, so that helps our cause considerably."
Alumni in Thailand are master recruiters too.
"Prince Chackartnarodom, a 2003 materials science and engineering alumnus, teaches engineering at Kasetsart University, and he is spreading the word about Michigan Tech," Smith says. "It really helps to have someone there to guide students into our programs. Prince is fluent in English, so he is one of our translators at events over there too."
Their oldest recruiter is Wera Wongcruawal, who graduated from Michigan Tech in 1960. He attends every event and puts a living face on a successful Tech alumnus for potential Thai students. Wongcruawal is a retired mechanical engineer. Also helping out is an alumni couple, Jennifer and Mark Bigelow, who are working for General Motors in Thailand.
Sanchai Kuboon, president of Tech's Thai Student Association and a graduate student in materials science and engineering, talks with students in Thailand about his experiences on campus.
"I tell them Michigan Tech is a really good and warm place," he says. "It's got a lot of international students from other countries, which makes you feel good."
The small group of Thai students is tight-knit, he says.
"We all work together with Jacque to help with recruitment," Kuboon adds. For example, they advise students back home which courses and instructors to take.
Communications are reality lessons too, Kuboon points out. "We tell them about the winters, how to live here and to adjust to the lack of sun. We tell them to take vitamin D."
"We've got the student association, a support network and momentum," Smith says. "Students over there can envision themselves here."
Smith believes it's a system that will work in other countries too. And, true to Tech's tradition, other nations will continue to send their most promising students to the snowy hills of the Copper Country.
Michigan Technological University is a public research university, home to more than 7,000 students from 54 countries. Founded in 1885, the University offers more than 120 undergraduate and graduate degree programs in science and technology, engineering, forestry, business and economics, health professions, humanities, mathematics, and social sciences. Our campus in Michigan's Upper Peninsula overlooks the Keweenaw Waterway and is just a few miles from Lake Superior.