Reading as Inquiry: Summer Reading that Digs Deep
By Dennis Walikainen | Published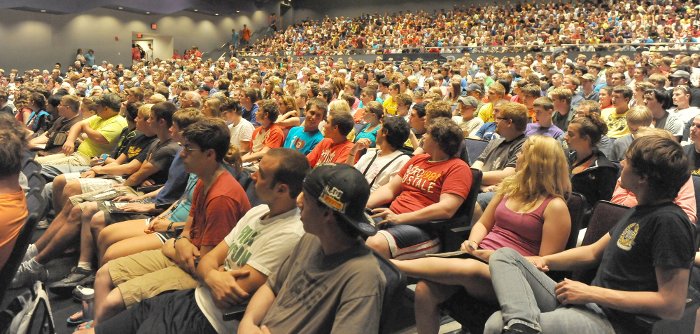 To succeed at Michigan Technological University, students must do more than skim articles and cruise through textbooks. They are asked to dig into their subjects, analyze results and information, and engage in conversation, including topics outside their majors.
Thus, Michigan Tech created the Reading as Inquiry program. Now in its 10th year, Reading as Inquiry gives the incoming first-year students a summer-reading assignment to prep them for college-level analysis and discussion.
"We want them to be inspired, too," says Heather Simpson, assistant director of COMPASS and one of the directors of the program. "This year's book proves that everyone can make a difference, and even small changes can do a lot of good. We hope they become more civic-minded."
The book, "The Little Princes: One Man's Promise to Bring Home the Lost Children of Nepal," tells the tale of Conor Grennan, who went to Nepal to help reclaim children who had been victims of human trafficking. The book was a strong favorite of the selection committee.
"Students on the committee especially liked it," Simpson said. "It's a quick read and is hard to put down, so we felt the students would read it cover to cover."
Reading as Inquiry is a large undertaking. Some 1,200-plus incoming students are placed in about 100 groups led by orientation leaders and resident assistants, as well as faculty and staff discussion leaders, and, new this year, community members.
"We involved high school teachers Tom Suchenek and Ruth Ryynanen librarian Chris Alquist in our committee, working with the Copper Country Reading Council and various local book clubs," Evelyn Johnson, lecturer in humanities, says. "And we've had discussions at bookstores, libraries and businesses in Copper Harbor, Hancock and Houghton."
Johnson also believes "The Little Princes" offers a ripe opportunity for further exploration in classes, including at the high school level.
"We feel the book should be brought into the schools to achieve the widest possible audience," she says. "We can also help bridge any town-gown gap with this effort and contribute to the first-year student experience."
The book also exposes students to a vastly different way of life. Nepal is the size of Arkansas and has 100 ethnic groups, 90 languages, and incredibly rough terrain.
"It's a beautiful opportunity for learning," she adds, "an appetizer to a very, very large smorgasbord."
Bob Johnson, professor in the humanities department, was one of the founders of the program, with Bonnie Gorman, now dean of students. He also sees opportunities for in-depth discussion.
"Our hope is the students will probe, ask critical questions, even about ourselves and our culture," he says. "We want them to do more than just know the facts; we want them to ask good questions."
He especially appreciates the project's campus-wide scope. About 300 members of the University community are involved, from President Glenn Mroz, vice presidents and deans to staff members from many different offices and departments. "This is the most inclusive activity at Michigan Tech," he says.
Johnson has received some notoriety. Recently recognized as "they guy who does the summer reading." He was thanked, especially for opening it up to the community.
The campus discussions include those for student-athletes, parents and family, and new first-year students.
In addition to those group discussions, the summer reading program includes five discussions for members of the local community. The author will also give a special presentation to first-year students and a public address on Tuesday, Aug. 28, at the Rozsa Center.
Michigan Technological University is a public research university, home to more than 7,000 students from 60 countries. Founded in 1885, the University offers more than 120 undergraduate and graduate degree programs in science and technology, engineering, forestry, business and economics, health professions, humanities, mathematics, and social sciences. Our campus in Michigan's Upper Peninsula overlooks the Keweenaw Waterway and is just a few miles from Lake Superior.