Cat-astrophe Averted, Loki Finds a New Home
By Jennifer Donovan | Published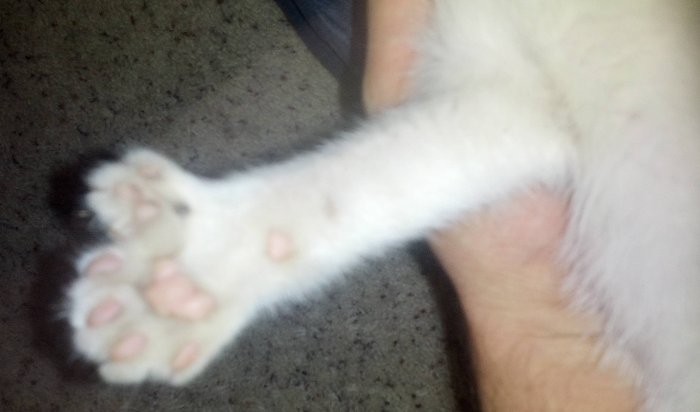 Sarah Lucchesi, an instruction and learning librarian at Michigan Tech's Van Pelt and Opie Library, was walking through Parking Lot 12 last week when she heard a blue Saturn Ion meowing loudly.
"Sounds like a cat is trapped somewhere in that car," she thought, so she contacted Tech's Department of Public Safety and Police Services. When Chief Dan Bannett and Officers Haley Gauthier and Reid DeVoge arrived, sure enough, there was an insistent meowing coming from under the hood of the car.
Tracing the Saturn's parking decal. DPSPS located the owners: Scott and Colleen Carroll, who both work at Tech. They rushed to their car, where a small crowd had gathered.
"Yes, we have a cat, but she's an indoor cat, and I'm sure she's at home, Colleen declared.
Scott opened the hood, and Officer Gauthier used a flashlight to locate a tiny white kitten. She retrieved it from deep in the engine compartment.
It wasn't the Carrolls' cat, but when Gauthier handed the little ball of white and orange fluff to Colleen, the kitten promptly stopped meowing, cuddled up and started purring.
Colleen and Scott exchanged what Colleen calls "one of those conversations without words." Both agreed. The little cat had found a new home.
"This cat found us," Colleen explains. "What could we do but take care of him?"
She tucked the tiny creature into her oversized purse and headed for the Copper Country Veterinary Clinic, where the Carrolls take their own cat and dog. There, she learned that their new baby is male and polydactyl, sporting extra toes on his front and back paws. Normal cats have 18 toes, 5 on each front paw and 4 on each back paw. The Carrolls' kitten, whom they named Loki, has 7 toes on one front paw and 6 on the other, plus 6 on one back paw and 5 on the other, for a total of 24 toes.
"The paw with 7 toes looks almost like a heart," says Colleen.
Loki also turned out to have ear mites and worms. He's being treated for them, so although he's gone home with the Carrolls, they are keeping him separate from their other cat and dog until there is no chance of infection. "The dog and cat have been lying right outside his door," Colleen reports. "They definitely know he is there. They are waiting patiently to meet their new brother."
Colleen sends a special shout-out to K-SNAG (Keweenaw Spay Neuter Assistance Group), who picked up the tab for Loki's checkup, treatment and shots, as they do for animals adopted from the Copper Country Humane Society and other pet adoption programs.
The Carrolls don't think that Loki rode in their car all the way from their home in Tamarack City. If he did, he is one lucky little cat.
With winter on the way, DPSPS Chief Bennett urges everyone to remember to rap on the hood of their car before they start it up, since cats and other small animals often crawl under a vehicle or into its engine compartment seeking warmth, not knowing that it could cost them their lives.
Michigan Technological University is a public research university, home to more than 7,000 students from 54 countries. Founded in 1885, the University offers more than 120 undergraduate and graduate degree programs in science and technology, engineering, forestry, business and economics, health professions, humanities, mathematics, and social sciences. Our campus in Michigan's Upper Peninsula overlooks the Keweenaw Waterway and is just a few miles from Lake Superior.