Michigan Tech Participating in UP-wide Reverse Transfer Agreement
By Marcia Goodrich | Published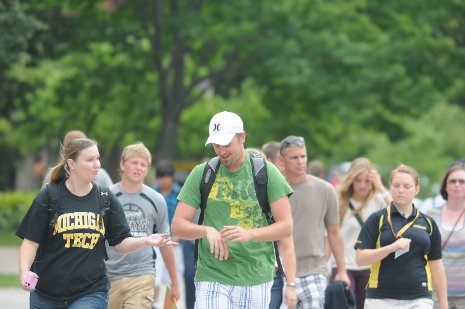 Michigan Tech is among six higher education institutions in Michigan's Upper Peninsula that have forged a formal agreement to help students complete a "reverse transfer" associate degree while working on a bachelor's degree.
Students and their families are generally aware that associate degree credits can be applied toward bachelor degree requirements, but they are not always familiar with the concept of "reverse transfer," which applies academic credits awarded at the baccalaureate level to an unfinished associate degree.
Other schools participating in the agreement are Finlandia University, Bay College, Gogebic Community College, Lake Superior State University and Northern Michigan University.
This agreement formalizes that process among the six colleges and universities and is designed to benefit students, mostly from the UP.
"The associate degree is a valuable asset for our transfer students, and we're very pleased that their Michigan Tech coursework will help them earn this initial academic credential," said Michigan Tech President Glenn Mroz. "In addition, the reverse transfer program reinforces our relationship with other Upper Peninsula colleges and universities."
Philip Johnson, president of Finlandia University, agreed. "The associate degree is a valuable credential in the employment market, both as evidence of job preparation and for career advancement," he said. "This option will give students a degree they can use to enter the workforce while they continue on to a bachelor's degree."
The institutions' presidents hope the agreement will address three issues in particular: undocumented learning, increasing and promoting associate degree completion for transfer students, and encouraging students to continue on to a bachelor's degree.
For more information, students interested in taking advantage of the reverse transfer program should visit the registrar's office of their college or university.
Michigan Technological University is a public research university, home to more than 7,000 students from 54 countries. Founded in 1885, the University offers more than 120 undergraduate and graduate degree programs in science and technology, engineering, forestry, business and economics, health professions, humanities, mathematics, and social sciences. Our campus in Michigan's Upper Peninsula overlooks the Keweenaw Waterway and is just a few miles from Lake Superior.