Michigan Tech Fights Back Against Sexual Assault: Responsible Relationship Days
By Dennis Walikainen | Published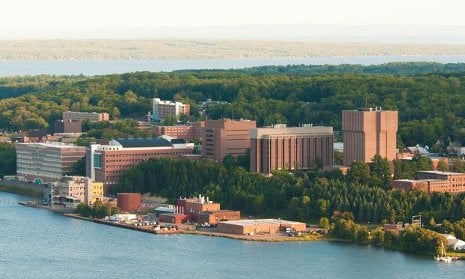 Every two minutes, someone in the US is sexually assaulted, and every year there are more than 200,000 victims of sexual assault. To help inform the campus and community and fight sexual violence, Michigan Tech is holding a series of events—Responsible Relationship Days—Tuesday through Thursday, Sept. 20-22. The events are open to the public.
Tuesday, Sept. 20
7 p.m.—Rape Aggression Defense (RAD)—Memorial Union Building Keweenaw Commons
Open to women only: Officers from Michigan Tech's Public Safety and Police Services will demonstrate realistic self-defense techniques for women.
Wednesday, Sept. 21
7 p.m.—How to Approach a Lady—Memorial Union Building Ballroom
This event will provide advice on matters such as being confident, holding a conversation, minding your manners and being yourself.
Hosted by the Society of African American Men.
8 p.m..—Tradition vs. Team Building: How do YOU know if your rituals are considered "hazing?"—Wadsworth Hall Annex
A panel discussion will raise awareness about hazing, bystander behavior and risk management in student organizations.
Hosted by the sisters of Alpha Delta Alpha.
Thursday, Sept. 22
RAINN (Rape, Abuse, and Incest National Network) Day—
More than 1 million college students nationwide will participate.
11 a.m.–1 p.m.—Chalking Event—Memorial Union Building Courtyard (MUB Keweenaw Commons if weather is bad)
Everyone is invited to come and express themselves on the sidewalks. Free coffee coupons will be given to all participants
6 p.m.—SAVE Demo—Fisher Hall 101
Sexual Aggression and Violence Education (SAVE) members will share information about their group (and free pizza). They'll also do skits and scenarios to help students stay safe while at Michigan Tech.
These events are being organized by Michigan Tech's TERR (Tech Educating for Responsible Relationships) Committee, Dial Help Community Support and Outreach Center, Housing and Residential Life, Michigan Tech Athletics, and RAINN.
For more information on TERR and Responsible Relationship Days, contact Ellen Horsch, vice president for administration, at eshorsh@mtu.edu
Michigan Technological University is a public research university, home to more than 7,000 students from 54 countries. Founded in 1885, the University offers more than 120 undergraduate and graduate degree programs in science and technology, engineering, forestry, business and economics, health professions, humanities, mathematics, and social sciences. Our campus in Michigan's Upper Peninsula overlooks the Keweenaw Waterway and is just a few miles from Lake Superior.