Michigan Tech Team Earns Top 10 Finish in Regional "Battle of the Brains"
By Marcia Goodrich | Published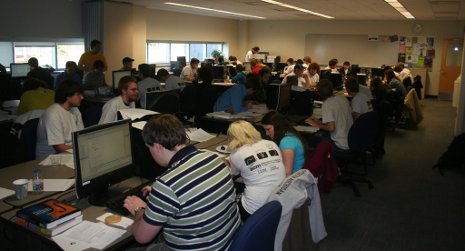 A team from Michigan Technological University has finished among the top 10 in its region following the first round of the ACM International Collegiate Programming Contest. Based on preliminary results, Team Magenta now has a chance to go to the world finals, said David Poplawski, associate professor of computer science and the team coach.

The IBM-sponsored contest, also dubbed "The Battle of the Brains," brings together tens of thousands of students and hundreds of colleges and universities on six continents. Teams of three students apply their programming skills to solve complex, real-world problems within five hours.

The worldwide contest kicked off Saturday with regional competitions. Based on the results, one hundred teams will be selected to compete in the world finals, set for May in Warsaw, Poland.

Seventeen teams from four universities converged on Michigan Tech, which was one of 16 contest sites for the North Central North America Region. Overall, the regional competition drew more than 200 teams from the Midwest and Canada.

The University's Team Magenta finished first among the teams competing at Michigan Tech and seventh overall in the region. Team members are all undergraduates, including software engineering majors Tom Holmes and Tim Weerakoon and Zach Malinowski, who is studying electrical and computer engineering. Other schools that competed at Michigan Tech were Northern Michigan University, Lake Superior State University and Algoma University.

"It's a tough competition, and to finish where they did is not easy," said Poplawski. "It requires a lot of knowledge, a lot of skill and a lot of practice.

"All three students on Team Magenta are only sophomores right now, which makes their accomplishment ever more impressive," he added. "Many teams in the region consist of juniors, seniors and even first-year graduate students."

Regional winners and up to three or four other top finishers are chosen to compete in the world finals, Poplawski said. Judges consider a variety of factors, "so there is a chance that Team Magenta could be invited," he said.

This is the first time in recent memory that Michigan Tech has been a site for the regional competition. "It went fine. There were no glitches," Poplawski said.

A team from the University of Wisconsin-Madison finished first in the North Central North America region, solving all 10 of the problems posed. The next eight teams, including Michigan Tech, each completed six problems successfully. Teams were ranked based on the number of problems solved and their completion time.
Michigan Technological University is a public research university, home to more than 7,000 students from 54 countries. Founded in 1885, the University offers more than 120 undergraduate and graduate degree programs in science and technology, engineering, forestry, business and economics, health professions, humanities, mathematics, and social sciences. Our campus in Michigan's Upper Peninsula overlooks the Keweenaw Waterway and is just a few miles from Lake Superior.