Michigan Tech Students Honored by American Chemical Society
By Marcia Goodrich | Published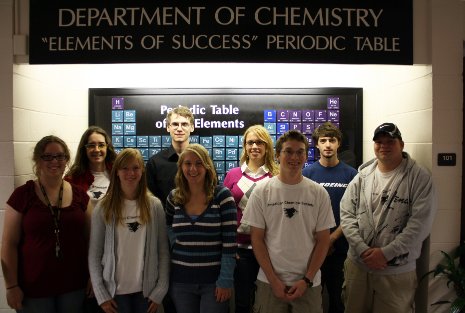 The American Chemical Society has recognized the ACS Student Chapter at Michigan Technological University with a Commendable Chapter Award.
The chapter was cited for its involvement in multiple activities, including judging the area science fair; conducting a lab inventory for the chemistry department; participating in National Chemistry Week and in Science Night, an event sponsored by the Western U. P. Center for Science, Mathematics and Environmental Education; and more.
"I'd like to thank the national chapter for this honor," said chemistry senior Gregg Hasman, president of the group. "It's been very exciting for us to get involved in outreach, not only on campus, but also in the elementary schools. It might even attract more students to Michigan Tech in about a decade."
Paul Charlesworth, an associate professor of chemistry, is the chapter advisor. "Gregg has been a dynamic leader, and the entire group has been very enthusiastic," he said. "This is the first year they participated in orientation, and a huge number of people were at their demonstrations. They are doing really well."
Department chair Sarah Green also praised Hasman's efforts. "Gregg has really revitalized this group in the last few years. He has simultaneously effused the group with new enthusiasm, and better organization, and better budgeting," she said. "And he's doing succession planning so the next president won't have to start from scratch.
"For me, the group has provided dependable help for open house and Preview Day events, and has been promoting chemistry across and beyond campus," Green added. "This is the first year they did an orientation event."
The chapter was also recognized for its recruitment efforts. A majority of chemistry majors, including most first-year students, are now members.
The chapter will be recognized in the November/December issue of the magazine In Chemistry and at the ACS Student Chapter Award Ceremony to be held at the 243rd ACS National Meeting, in San Diego, Calif.
Michigan Technological University is a public research university, home to more than 7,000 students from 54 countries. Founded in 1885, the University offers more than 120 undergraduate and graduate degree programs in science and technology, engineering, forestry, business and economics, health professions, humanities, mathematics, and social sciences. Our campus in Michigan's Upper Peninsula overlooks the Keweenaw Waterway and is just a few miles from Lake Superior.