Michigan Tech Among Universities Receiving $6.63 Million in State Economic Development Funding
By Dennis Walikainen | Published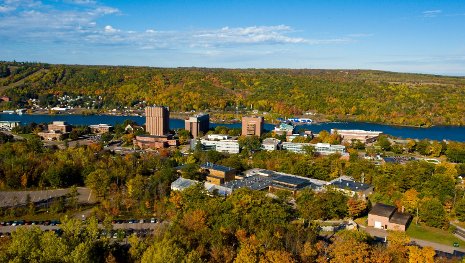 Michigan Technological University is one of several state universities and economic development agencies that will receive a combined $6.63 million in three different initiatives from the State of Michigan.
The Michigan Strategic Fund and the Michigan Economic Development Corporation (MEDC) have announced that they are investing in:
university-industry partnerships.
technology commercialization.
innovation and entrepreneurship.
Michigan Tech will receive $260,000 over two years. Participating universities, including Tech, will compete for additional funds from the total pool of dollars.
"These investments will enable Michigan Tech to help grow the state's economy by connecting our resources of expertise and technology with established and start-up companies," says Dave Reed, vice president for research at Michigan Tech.
In the university-industry partnerships initiative, a Corporate Relations Network for Michigan's Research Universities (M-CRN) will be built for $1.8 million. "At Michigan Tech, this program will advance our historically strong connections with industry and promote collaboration across the institutions," says Jim Baker, executive director of innovation and industry engagement.
The M-CRN features:
an internship program placing students with local companies.
a small-company innovation program for joint university-company projects.
extension of a faculty expertise database.
pilot Instant Innovation Programs focusing on industries' technical needs.
The second initiative involving Michigan Tech, a Tech Transfer Talent Network, will be built for $2.43 million statewide. "This is of particular value to Michigan Tech because, while we have an extensive network of successful alumni, their geographic distribution and the diverse nature of technology make it hard to match up alumni experts with industry," said Baker.
Features include:
development of a database of experts.
a Mentor-in-Residence program, putting experienced entrepreneurs in tech transfer operations.
Tech Transfer Fellows and Postdoc Fellowship programs for graduate students.
activities to recruit and engage new talent.
A third project, the Michigan Initiative for Innovation and Entrepreneurship (MIIE), will receive $2.4 million from the statewide grant. MIIE helps universities attract private company investment to move early stage technologies from laboratory to market. The program involves all Michigan public universities. Baker cochairs MIIE with Marvin Parnes, associate vice president for research and executive director of research administration at the University of Michigan.
"Several Michigan Tech researchers have already received funding under this program to move their technologies forward," said Baker. "In particular, funding from this program helped establish a company focused on osteoporosis-fighting technology and another that is developing commercial applications for stamp sand."
Michigan Technological University is a public research university, home to more than 7,000 students from 54 countries. Founded in 1885, the University offers more than 120 undergraduate and graduate degree programs in science and technology, engineering, forestry, business and economics, health professions, humanities, mathematics, and social sciences. Our campus in Michigan's Upper Peninsula overlooks the Keweenaw Waterway and is just a few miles from Lake Superior.