Students' Creative Problem Solving Helps Tech Alumni Tackle Engineering Issues
By Jennifer Donovan | Published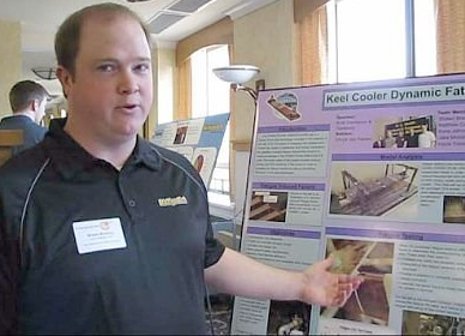 R.W. Fernstrum & Company and Michigan Tech found ideal research partners in each other. The Menominee manufacturing company is run by Michigan Tech alumni, and by sponsoring several Senior Capstone Design projects, they've been able to harness the creative mind-power of another generation of Tech engineering students.
Fernstrum engineers, develops and manufactures cooling technologies for ships worldwide. Faced with a particularly thorny problem—fatigue-induced failure of cooling systems attached to the keels of heavy-duty ships, for example—they turned the matter over to the bright young minds of a Senior Design team at Michigan Tech. Senior Capstone Design is the capstone course in Michigan Tech students' engineering curriculum.
It turned out to be a win-win decision.
"It's a cost-effective and manpower-efficient way to conduct research and development work," explains Sean Fernstrum, '90, vice president of operations at the marine cooling technology firm. "We were able to conduct research with a specific goal without having to dedicate our own personnel and facilities for extended periods. "
And the Senior Capstone Design team members—Shawn Bretting, Matthew Carney, Kane Johnson, Jake Mohan and Kayla Tobias—received financial support to put their engineering studies to the test. Their advisor was Chuck Van Karsen, associate professor and associate chair of mechanical engineering.
Fernstrum's father, Paul, '65, who is president of the company, is a trustee of the Michigan Tech Fund. Sean Fernstrum's wife, Lisa Jonas Fernstrum, '91, is secretary of Tech's Alumni Association Board. Todd Fernstrum, '92, is the company's vice president of manufacturing.
The student team recorded data onboard a working ferry that used a Fernstrum cooler, to determine the vibration sources and frequencies at different engine speeds. They also did impact testing on a freely suspended cooler to compare the natural frequencies and mode shapes of empty and coolant-filled coolers.
After determining that vibration caused cracking and leakage around the joints where the heavy-duty cooler's tubes are attached to a top support strap, the team added another support strap underneath. They also tested straps of a smaller width for Fernstrum's medium-duty cooler.
Fatigue resistance was not the only engineering challenge facing Fernstrum. So the company supported two other Senior Capstone Design teams this year. One tackled the problem of barnacles and other marine life that can grow on the exterior-mounted coolers. The other team took on the task of optimizing the interior surface design of the cooler tubes to maximize heat transfer while minimizing backpressure along the length of the cooler.
A team that included Ben Ranta, Will Prins, Dave Arnold. Karl Warsinski and Max Lent, with advisor Mike LaCourt, a research engineer in mechanical engineering, went looking for a self-cleaning cooler coating that resists marine growth without reducing cooler efficiency by more than 15 percent. They tested and compared three commercially available coatings on aluminum and copper-nickel tubes, using a device they designed and built called a guarded hot plate to measure the thermal conductivity of the coating. In both best-case and worst-case scenarios, the students found that an epoxy-based coating on an aluminum tube reduced the cooler efficiency less than either a copper coating or a copper coating combined with a primer.
Since keel coolers are mounted on ships' hulls to help dissipate the heat created by the vessel's engines by cycling water through long tubes, it's tricky to strike a balance between maximum heat transfer and increased pressure as the water moves through the tubes. The third Senior Capstone Design team tested variations on the internal surface of the cooling tubes, including straight and wavy fins, surface dimples, hemispheres, inserts and airfoils. They found that the straight fin configuration performed best, so they designed a prototype that Fernstrum manufactured. Then they tested it at two temperatures and three flow rates, measuring the pressure at the inlet and outlet of each tube.
"Since engineering students don't work in a shipyard, this opportunity to apply our book learning to a real problem was extremely valuable," said team member Logan Janka. "And we learned about more than engineering. We found out how important good communication is in trying to solve engineering problems."
His fellow team members were Mario Bonvini, Brad Gillen, InKyoung Kim and Tyler Lung. Their advisor was Charles Margraves, a lecturer in mechanical engineering.
Michigan Technological University is a public research university, home to more than 7,000 students from 60 countries. Founded in 1885, the University offers more than 120 undergraduate and graduate degree programs in science and technology, engineering, forestry, business and economics, health professions, humanities, mathematics, and social sciences. Our campus in Michigan's Upper Peninsula overlooks the Keweenaw Waterway and is just a few miles from Lake Superior.