Sorby Honored for Spatial Visualization Work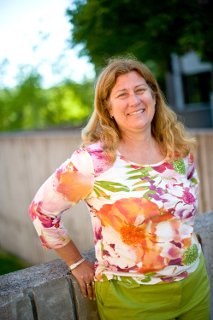 May 25, 2011—
Michigan Technological University professor Sheryl A. Sorby has received North Carolina State University's Orthogonal Medal for outstanding accomplishments in improving students' spatial visualization skills.
The award is presented by the Technology, Engineering and Design Education Program in North Carolina State's College of Engineering.
Sorby is a professor of mechanical engineering-engineering mechanics and director of the Engineering Education and Innovation Research Group. In the field of engineering graphics, she is known for her studies of students' visual abilities. With former faculty member Beverly Baartmans, Sorby developed a course to help engineering freshmen improve their visualization skills. The course not only improved their skills, but also resulted in better grades in physics, chemistry, calculus and computer science and improved the students' retention rate. The course has been so successful that it is being adopted by a number of other universities.
Sorby received the Orthogonal Medal April 16 at a banquet in her honor on the North Carolina State campus, where she was the Distinguished Lecturer. The Orthogonal Medal is given in recognition of outstanding contributions to the field of graphical science and technical graphics education.
Michigan Technological University (www.mtu.edu) is a leading public research university developing new technologies and preparing students to create the future for a prosperous and sustainable world. Michigan Tech offers more than 120 undergraduate and graduate degree programs in engineering; forest resources; computing; technology; business; economics; natural, physical and environmental sciences; arts; humanities; and social sciences.