Students Pitch a Business with a Difference
By Dennis Walikainen | Published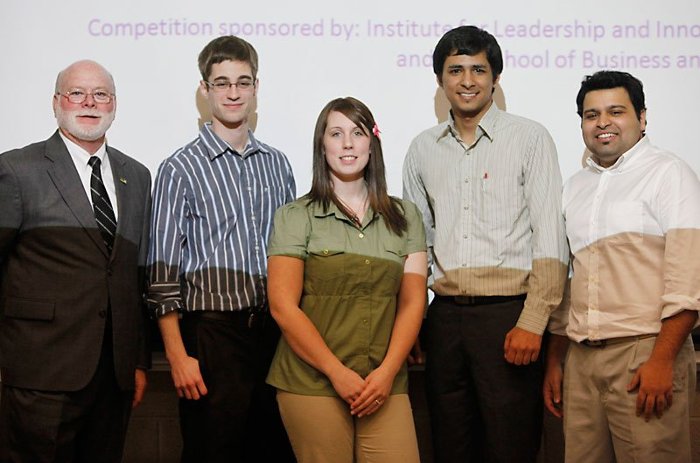 India's first nonprofit online bookstore may have been born at Michigan Technological University this week. In the second annual business plan competition, Jodhbir Singh and Aman Bamra won the top prize of $1,500, plus $2,700 in local business services for their plan for Books With Purpose.
"Books With Purpose would help address India's illiteracy crisis," Singh, a graduate student in electrical engineering, explained. "Thirty-five percent of India's population is illiterate, and we would donate one book to under-supported schools for every five we sell."
Singh and Bamra (an undergraduate in computer science) said they would approach India's middle and upper classes, part of the world's third largest book market, to support their mission and their business, especially targeting rural areas, where illiteracy is more prevalent.
"Our vision is to empower underprivileged children through access to books," Singh said. "In the future, we aim to bring the ratio of purchase-to-donation to one-to-one." Singh plans on returning to India after graduation to pursue the business.
Bamra added that the online book-buying business in India is still in its infancy. "It's like it was in 1999 in the US," he said. The pair also said government-run book purchasing for schools is inefficient and sometimes corrupt.
As part of the business plan competition, the future businessmen and women orally presented their ideas after the panel of judges had reviewed their written plans.
Other fledgling businesses garnered cash awards, and all showed innovation and initiative.
Two Bows, a company founded by Jessica Tompkins, a junior majoring in management, took second place. Her business plan was already familiar to the crowd. She won an elevator pitch competition last fall with her business, which creates hunting apparel for women "that could also be worn elsewhere."
Targeting "outdoorsy females, ages 12 to 50, in the northern states," Tompkins has already started producing demos of her clothing to further sell her idea, including the blouse she was wearing.
"We would eventually like to expand our online e-commerce sales and even donate proceeds to families of breast cancer patients and the Dream Hunt Program for terminally ill children," she said. Second place brought her $500, which she said she would reinvest in the company.
Third place and $250 went to Collin Stoner and his company, Selene, which will manufacture electric motor drivers. He has already been working with a company called Medical Minds to promote his device, which could be used to move the beds in CAT scan machines, for example.
"I've spent 400 engineering hours making the prototype," Stoner said. "And each one would have its own, unique computer chip, making duplication by competitors difficult."
Other businesses pitched to the judges included retirement planning for lower income and middle-class people who might have fallen on hard times; cloud computing with improved information gathering; and a social network site for environmentally conscious people and organizations.
Bob Mark, professor of practice in Michigan Tech's School of Business and Economics, who emceed the event, handed out the cash prizes to students and announced that there are plans for a major increase in funding next year, in cooperation with Central Michigan University. Mark said he sees the beginning of a mutually beneficial relationship with Central, with expanded entrepreneurial opportunities and other academic relationships.
Michigan Technological University is a public research university, home to more than 7,000 students from 54 countries. Founded in 1885, the University offers more than 120 undergraduate and graduate degree programs in science and technology, engineering, forestry, business and economics, health professions, humanities, mathematics, and social sciences. Our campus in Michigan's Upper Peninsula overlooks the Keweenaw Waterway and is just a few miles from Lake Superior.