Norman Augustine—Engineer, Businessman, STEM Advocate—To Speak at Michigan Tech Spring Commencement
Last Modified 1:31 PM, April 21, 2011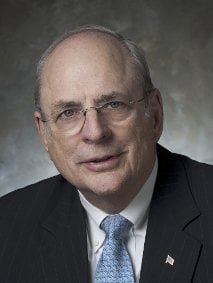 Norman Augustine is the featured speaker at Michigan Tech's 2011 Spring Commencement.
March 17, 2011—
Norman Augustine, who will speak at Michigan Technological University's upcoming Spring Commencement April 30, is an outspoken advocate of more and better education in science, technology, engineering and mathematics—the STEM fields.  It's what the US needs to be competitive in the global, high-tech marketplace of the 21st century, he says. And he knows what he's talking about.
An aeronautical engineer and businessman himself, Augustine chaired a National Academies committee that issued a watershed report on America's failings in STEM education.  The report, titled  "Rising Above the Gathering Storm: Energizing and Employing America for a Brighter Economic Future," outlined what the country needs to do "to compete in this rough and tumble global environment." It forms the foundation for recent efforts to attract more students to the STEM fields and to improve STEM education, long a cornerstone of Michigan Tech's mission.
Augustine is the former chairman and CEO of Lockheed Martin and Martin Marietta Corporations. He has served as assistant secretary, undersecretary and acting secretary of the US Army.   
He headed the National Academy of Engineering, the Aerospace Industries Association, the Defense Science Board, the American Red Cross and the Boy Scouts of America.
Augustine has received the National Medal of Technology from the President of the United States and the Distinguished Public Service Award from the Joint Chiefs of Staff. He also received the US Department of Defense's highest civilian honor, the Distinguished Service Medal, five times.
Michigan Tech will recognize the featured speaker with an honorary Doctorate of Science and Engineering. 
Michigan Technological University (www.mtu.edu) is a leading public research university developing new technologies and preparing students to create the future for a prosperous and sustainable world. Michigan Tech offers more than 120 undergraduate and graduate degree programs in engineering; forest resources; computing; technology; business; economics; natural, physical and environmental sciences; arts; humanities; and social sciences.