Michigan Tech Society of Physics Students Receives Two National Honors
By Marcia Goodrich | Published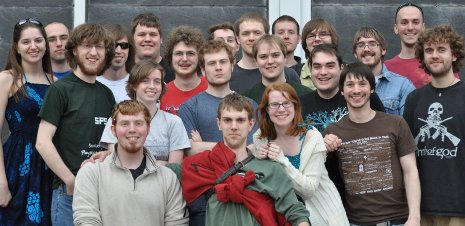 The Society of Physics Students (SPS) chapter at Michigan Technological University has been selected as an Outstanding SPS Chapter.
The recognition comes on the heels of the chapter's Blake Lilly Prize. The prize recognizes chapters that "make a genuine effort to positively influence the attitudes of school children and the general public about physics." Only four chapters in the nation received the award.
"I was really excited," said Michigan Tech SPS chapter president Renee Batzloff, a senior majoring in applied physics. "And it's been decades since our chapter has been recognized" as an outstanding chapter.
The Michigan Tech chapter is part of Zone 9, which includes more than 40 SPS chapters in Illinois, Indiana, Upper Michigan, and Wisconsin. Only four were named outstanding chapters. Award selection criteria include involvement with national meetings, outreach effort, community service, interaction with alumni, student recruitment, and more.
The students have been traveling to regional SPS meetings to network, and they have also been active in reaching out to the community. In collaboration with the Western UP Center for Science, Mathematics and Environmental Education, they conduct Family Physics Nights at the Calument Laurium Keweenaw Public Schools. There, they present about 15 demonstrations to teach children—and their parents—about the quirky side of physics. "It blows their mind," Batzloff said. On a smaller scale, they give presentations at the area science fair, Preview Day and Spring Fling.
They also helped to host a new event, the Physics Force Circus, which was brought to Michigan Tech by the University of Minnesota and drew in over 300 parents and students.
"They've been doing this kind of outreach for several years, and they also help the department with open houses for prospective students and their families in the fall," said their advisor, Will Cantrell, an associate professor of physics. "We find that if you want perspective students to get excited about coming here, they need to talk with our current students."
The credit for the chapter's success goes entirely to the membership, he added. "I'm the advisor, but this is all do to their efforts," he said. "Thanks to them, we're not a best-kept secret anymore."
The Society of Physics Students is a professional association for students. Membership, through collegiate chapters, is open to anyone interested in physics. This SPS operates within the American Institute of Physics, an umbrella organization for ten other professional science societies.
Michigan Technological University is a public research university, home to more than 7,000 students from 54 countries. Founded in 1885, the University offers more than 120 undergraduate and graduate degree programs in science and technology, engineering, forestry, business and economics, health professions, humanities, mathematics, and social sciences. Our campus in Michigan's Upper Peninsula overlooks the Keweenaw Waterway and is just a few miles from Lake Superior.