Michigan Tech Graduate Student Wins a Spot in International Satellite Imaging Competition
By Jennifer Donovan | Published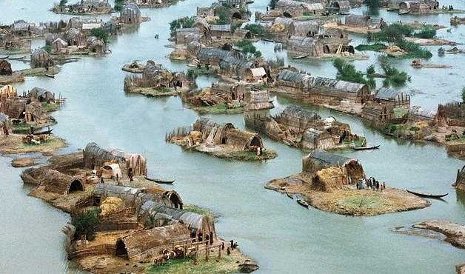 There is trouble in paradise. Across what used to be home to half a million people making a living farming, raising livestock or fishing, the land is becoming inhospitable to vegetation. The flocks of migratory birds that used to fill the skies are rarely seen.
The region used to be called the Garden of Eden. It's located in a region of Iraq known as Mesopotamia, a formerly fertile valley between the Tigris and Euphrates Rivers that is becoming increasingly arid due to rising salinity of the soil. Now a graduate student at Michigan Technological University, originally from Iraq himself, has developed a plan to use high-resolution satellite imagery to analyze the salinity of the ground and—hopefully—find ways to make the Garden of Eden fertile again.
DigitalGlobe, a company that manufactures a high-resolution, 8-band sensor for satellite imaging, found the project so innovative and promising that they have invited Sinan Abood, an interdisciplinary PhD student in environmental engineering at Michigan Tech, to participate in a worldwide competition called the 8-Band Challenge. More than 500 proposals were submitted; Abood's is one of 10 that were accepted. The competition, open to graduate students and postdoctoral research fellows, is slated to be judged this spring.
Abood is analyzing 100 square kilometers of Mesopotamian marshlands, with DigitalGlobe's 8-Band Challenge footing the bill. The new, 8-band satellite imagery of that area normally would cost $2,500, and what he learns could benefit the entire 5,000 square kilometer marshes.
Satellite imagery is commonly used to analyze the properties of land surfaces, but until DigitalGlobe released its latest satellite, Worldview 2, the highest resolution researchers could use came from a 4-band sensor. The new 8-band sensor produces images that focus in to two meters per pixel of detail.
"The 8-band sensor gives us a larger range and much more detailed, high-resolution information," says Abood. Each spectral band is narrowly focused on a particular range of the electromagnetic spectrum that is sensitive to a particular feature on the ground.
He is comparing 4-band satellite images from 2003 and 8-band images from 2010 to identify the damaged areas of the Mesopotamian marshes and determine the changes in water supply and salinity. Then he will try to find a relationship between the soil salinity and the arid marshlands.
"Soil salinity is a major environmental hazard," he explains. "It has a severe negative impact on water quality and crop production. There are extensive areas of salt-damaged soils on all continents, but their extent and distribution has not been well studied in the Iraqi marshes."
Abood's advisors at Michigan Tech say his research could make an important difference.
"Research on soil salinization and land degeneration is based on a mixture of pedology (a study of soils in their natural environment), geography and environment science," says Ann Maclean, professor in the School of Forestry and Environmental Sciences (SFRES) and Abood's PhD advisor. "The interpretation of this type of imagery is the most important means of making both qualitative and quantitative analyses, particularly in areas like this where ground monitoring is almost impossible."
Mike Falkowski, assistant professor in SFRES and co-advisor on the research, added: "Sinan's 8-Band Challenge project is focused on using cutting-edge technology to detect and characterize saline soils in Iraq, which are a major environmental hazard that negatively impacts water quality and crop production. Using remote sensing to detect saline soils could serve as an early warning system to help mitigate the associated negative impacts."
Abood says his research could be significant worldwide. "Approximately 10 million hectares (nearly 25 million acres) of irrigated land are abandoned each year due to an increase in soil salinity and a decrease in the water supply," he points out.
Michigan Technological University is a public research university, home to more than 7,000 students from 54 countries. Founded in 1885, the University offers more than 120 undergraduate and graduate degree programs in science and technology, engineering, forestry, business and economics, health professions, humanities, mathematics, and social sciences. Our campus in Michigan's Upper Peninsula overlooks the Keweenaw Waterway and is just a few miles from Lake Superior.