Steel Bridge Team Takes Second in the Nationals
By Marcia Goodrich | Published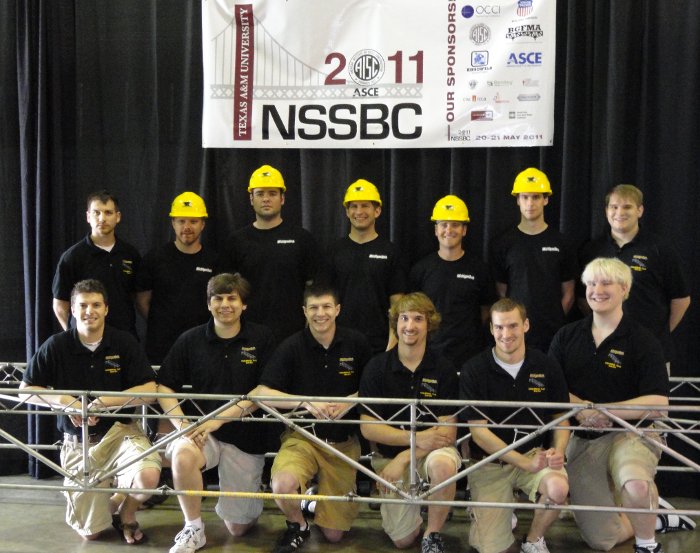 Michigan Technological University's team nabbed a second-place finish at the AISC National Student Steel Bridge Competition, held May 20-21 at Texas A&M University.
Sponsored by the American Institute of Steel Construction, the contest challenges future structural engineers to display their skills in steel design, steel fabrication and teamwork. Forty-eight student teams from across the US and Canada participated.
The Michigan Tech team earned the privilege to compete at the nationals by winning the regional competition, held April 1-2 at the University of Michigan, Ann Arbor.
"I'm very impressed," said Devin Harris, assistant professor of civil and environmental engineering. "They did an outstanding job, and they deserve all the credit. I am their advisor, but they do it all on their own."
One key to their success was adhering to a demanding schedule. "Of course, the biggest thing is to get your bridge built, and this year they did it early," Harris said. "That gave them a couple of weeks to practice building it, which is crucial, because part of the competition is construction speed."
The team is also laying a foundation for future successes. "This year, more than previous years, they incorporated some of the younger members," Harris said. "The biggest thing that makes teams competitive from year to year is that transfer of knowledge."
Their strong showing reflected excellence in all phases of the competition. They placed second in construction speed, third in economy and efficiency, seventh in lightness, ninth in stiffness and 17th in aesthetics.
Teams are judged on the economy of their bridge, which includes the time it takes to erect and the number of people required to put it together, as well as the efficiency of the design—how it bends when a load is added and the total weight of the bridge's materials.
Team cocaptain Andrew Erickson credited their success to "the dedication and experience of the team."
"We devoted more time and effort on design this year, on the simplicity of the bridge and on the speed at which we could construct it," he said. "After the initial fabrication, we must have torn it down and assembled it at least a hundred times. The guys would get up at 5:30 in the morning to practice for three hours and then go to class."
Cocaptain Don Leddy says this is the first time since 2008 that the team has qualified for the nationals.
"The overall time commitment the group gave helped us get a better final product," Leddy said. "We have a larger group this year that gave more time—about 1,200 hours altogether."
The competition requires teams to build a bridge based on a rigid set of specifications. "It's similar to a proposal on an MDOT [Michigan Department of Transporation] job," said Erickson.
Then they use concepts learned in the classroom, from computer-aided design and statics to strength of materials and steel design, to design and build a bridge over an imaginary span of water.
"They got a wonderful group that really wanted to work together. That really paid off for them," said Bill Baxandall, who advises Michigan Tech's concrete canoe team and has helped out on the steel bridge team effort.
The first and third place teams, respectively, were Lakehead University, located in Thunder Bay, Ont., and the State University of New York College of Technology at Canton.
Team members are pictured in the slide show photo taken at the national competition. They are, back row, left to right, Andrew Erickson, Dave Froster, Joel Ortman, Don Leddy, Adam Newton, construction coordinator Pat Grodecki and Alex Seidl; and front row, Tyler Tomlison, Tim Guebert, Alex Vasquez, Wes Karras, Matt Schwalen, Brandon Abel. Not pictured are Nicolas Pueppke, Kevin Rey, Kris Mccoy, Colin Lay, Josh Cardinal, Sarah Shann, Bryan Karns, Ben Lucas and Sean Herrle.
Team sponsors are Great Lakes Engineering, Conestoga-Rovers & Associates, Midwest Steel, Ruby & Associates, Titus Welding Co., Marlette Excavating Co., MSA Professional Services, Vasquez Concrete & Masonry Services, Michigan Tech's Undergraduate Student Government, Michigan Tech's Department of Civil and Environmental Engineering, and Hubbell, Roth & Clark.
Note: Student writer Danny Messinger contributed to this story.
Michigan Technological University is a public research university, home to more than 7,000 students from 60 countries. Founded in 1885, the University offers more than 120 undergraduate and graduate degree programs in science and technology, engineering, forestry, business and economics, health professions, humanities, mathematics, and social sciences. Our campus in Michigan's Upper Peninsula overlooks the Keweenaw Waterway and is just a few miles from Lake Superior.