South African Graduate Student Plans to Bring Education to Her People
By Jennifer Donovan | Published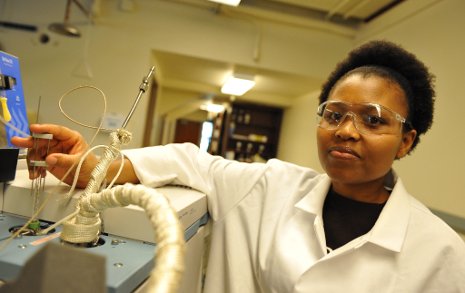 Nelson Mandela, who led the anti-apartheid movement in South Africa, once said: "It is through education that the daughter of a peasant can become a doctor, that the son of a mine worker can become the head of the mine, that a child of farm workers can become the president of a great nation. It is what we make of what we have, not what we are given, that separates one person from another."
Nelson Mandela is Taile (pronounced Dah-ee-lay) Leswifi's hero. And the Michigan Technological University PhD student from South Africa is certainly following his counsel. She is making the most of what she has: an aptitude for science and math, the problem-solving mindset of an engineer, a deep commitment to improving life for the people of her native land, and a fierce dedication to communicating to coming generations of South African children that education is the key that can open the doors of their world.
Studying environmental engineering on Fulbright and PEO Sisterhood scholarships, Leswifi is researching new ways to produce a sustainable, renewable, low-cost source of hydrogen energy from water and sunlight, energy that does not add to the pollution of the environment. She is also preparing herself to teach at Tshwane University of Technology back in South Africa, where she plans to work with a South African Fulbright group to take the promise of success through education to children in remote reaches of her country.
"I can't change all of South Africa by myself," she says, "but if I can change the mindset of one person, then that person can change one other person, and that's the way real change takes root."
Leswifi knows about the challenge of living in a remote area. She grew up in one herself, the small town of Phalaborwa in northern South Africa. When she was small, apartheid was still the law of land. It deprived black South Africans of citizenship and gave them limited access to education, health care and other public services. Blacks could only get jobs considered undesirable by whites. Racial segregation was total and enforced by law.
Like 8 out of 10 of the men in her town, Leswifi's father was a laborer, a truck driver for the Palabora copper mine. During the early 1990s, when Leswifi was just a toddler, union workers began to stage protests, and the Leswifi house became their hiding place, a haven from stonings, tire burnings and riots on the streets.
"I was delighted to see so many people in my house," she recalls. "I didn't understand the danger they were hiding from. I mistook the fires and the riot crowds for a festive atmosphere. I didn't realize the hatred behind the stoning."
Although not well educated, Leswifi's father was a curious man who never hesitated to ask anyone—white or black—about mining or anything else he wanted to understand. And the girl's mother, prevented by apartheid from completing her education beyond elementary school, established a preschool in her house to motivate black children to aspire to a better life through education.
It was an atmosphere of intellectual stretching that served the bright, inquisitive child well. She finished high school with outstanding marks in math and science and informed her family that she wanted to be an engineer.
That didn't please Leswifi's father. "He wanted me to be a medical doctor," she recalls. "But I interacted well with boys, and I didn't think it would be a problem working in a male-dominated field." Understanding where his daughter's talents and interests lay, her father came to support her decision.
Leswifi headed off to college at Tshwane University of Technology in Pretoria, about 288 miles from her home. There she completed bachelor's and master 's degrees in chemical engineering.
For the first time in her life, history was on her side. Apartheid had ended in 1993, and all over South Africa, people were working hard to make up for lost opportunities.
Tshwane University of Technology, with only one woman on its chemical and metallurgical engineering department, was eager to attract and hold qualified black women faculty members. The university hired her as a teaching graduate assistant to teach a lab and a class, with the promise of a professorship saved for her until she earned her PhD.
But a PhD seemed out of reach. "I had no money to continue studying," Leswifi explains.
Then she heard about the American-based Fulbright scholarships available to outstanding international students to pursue graduate studies in the US. She applied and received a Fulbright to attend Michigan Tech.
Through the Fulbright network, Leswifi learned of another source of financial help for international graduate students: the PEO International Peace Scholarship. A Keweenaw area chapter of PEO, a philanthrophic organization that supports education and achievement for women, sponsored her application, and soon she'd been awarded her that scholarship too.
"PEO's Chapter DJ in Houghton considers itself very fortunate to be able to help a young woman of Taile's caliber," says Barbara Been, chapter president.
The only South African student at Michigan Tech, Leswifi said she has felt right at home in Houghton—"except for the weather," she laughs, describing her home near the northern border of South Africa as "hot and hotter."
"Everyone has been so nice to me here," Leswifi says. "I didn't even feel homesick for a long time.
Historically both her home town and Houghton are mining communities, and they're about the same size. The newcomer did notice some differences though, in addition to the long, snowy winters. "There are so many churches here, but most of them seem to be empty," she remarks. "At home, our churches are packed every Sunday."
The dark-skinned young woman says she has experienced no racial prejudice at Michigan Tech or in the surrounding community. "Here, I never felt that I am black," she observes.
But her first visit home last December "reminded me of the harsh reality," says Leswifi. She and a group of black friends were in a mall, waiting for an elevator. Some older white women were waiting too. "We let them get on the elevator ahead of us, because we'd been taught to let older people go first, not because they were white," she recalls. Then, as Leswifi and her friends moved to board the elevator, one of the white women thrust out her hand to stop them, as if exclaiming "halt!"
"It made me mad and sad at the same time," the graduate student says.
But it didn't discourage her. "Yes, we have been oppressed, but I am not going to let it push me down," she declares. "You have to help yourself before anyone else can help you. I owe it to my parents to try. Even if I fail, at least I tried."
Failure seems an unlikely outcome for Taile Leswifi.
"Taile is a very hardworking and motivated individual," says her PhD advisor, David Hand, a professor of civil and environmental engineering at Michigan Tech. "Her research involves the development of photocatalysts that can produce hydrogen gas from sunlight and water. Presently, she is working with known photocatalysts to understand their electronic and catalytic properties, to help in her synthesis of new, more active catalysts."
The doctoral student has been at Michigan Tech for two years and anticipates finishing her PhD in two more.
"After she completes her degree, Taile plans on teaching and performing research in her home country of South Africa," Hand went on to say. "She has the drive and ambition necessary to become a successful university scholar."
Michigan Technological University is a public research university, home to more than 7,000 students from 54 countries. Founded in 1885, the University offers more than 120 undergraduate and graduate degree programs in science and technology, engineering, forestry, business and economics, health professions, humanities, mathematics, and social sciences. Our campus in Michigan's Upper Peninsula overlooks the Keweenaw Waterway and is just a few miles from Lake Superior.