Michigan Tech Students Bring Gifts of Mobility to Indian Kids
By Marcia Goodrich | Published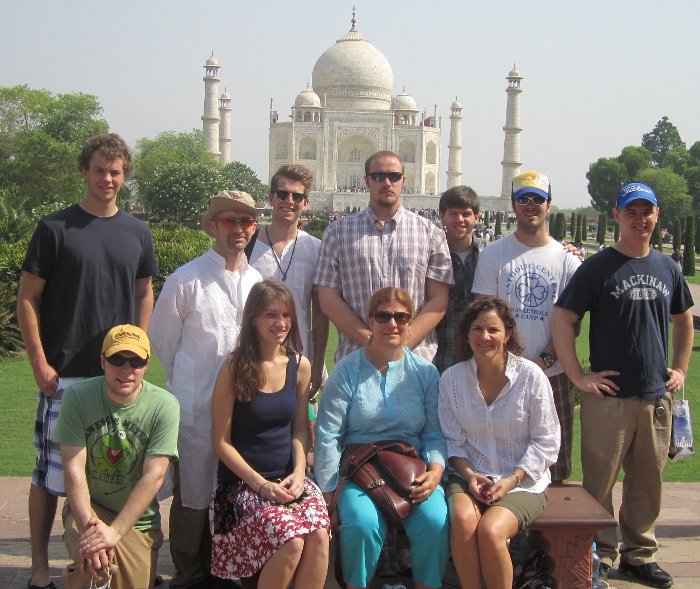 It's one thing to build a set of braces to help disabled children walk. It's something else again to design devices that can be made in India, with local parts and materials, for a fraction of the going rate.
But that is what two Michigan Tech Senior Design teams did this year. With faculty advisors Tammy Haut Donahue and Sheryl Sorby, mechanical engineering undergraduates took on projects to help children half a world away. Then they traveled to New Delhi to deliver their gifts of mobility.
One team built a custom device for a 16-year-old boy with cerebral palsy. Called a reciprocating gait orthosis, or walking calipers, it includes leg braces that extend from the feet to the waist, where they are connected to a waistband and arm pieces that the boy can grasp to walk in a near-natural gait.
After working on the project all year, the Senior Design teams traveled to India. There, they brought their calipers to the All India Institute of Medical Sciences (AIIMS), where they were surprised to see a reporter from one of the largest English-language newspapers in India. She watched as the young man, who has used a wheelchair most of his life, rose up and began walking with minimal assistance. "He should be able to stand on his own in about six months," Haut Donahue predicted. "This should let him be more independent of his parents."
As for the newspaper reporter, the project was featured in the May 10 Hindustan Times article, "Look Mom, with These I Can Walk on My Own."
The walking calipers were built at the behest of AIIMS, which had tried out a similar device that cost $5,500 and was much more difficult to use. The Michigan Tech students' version will cost about one-tenth of that and can be custom-made by Ortho Prosthetics Care and Rehabilitation in India, which plans to provide the calipers free to New Delhi's poor.
The other Senior Design team built a set of leg braces that extends from the bottom of the foot to the thigh, called a knee-ankle-foot orthosis. Their client was the Delhi Council for Child Welfare, which was acting on behalf of children in a New Delhi orphanage and child development facility, many of whom had contracted polio and were unable to walk.
"We had to redesign their current brace," said team member Eric Sturos. "It was too expensive, and it didn't allow people to sit cross-legged or to squat, and sitting and squatting is huge in their culture. They have to squat to go to the bathroom."
"At the beginning it was tough," said team member Bryan Plunger. "There was a communication barrier, dealing with people in a different culture on the other side of the world. There were a number of things we took for granted that we shouldn't have," particularly the availability of parts. "They liked our design, but they couldn't reproduce it."
That could have been the end of the project, but it wasn't. "They told us, 'Don't worry, we'll make it happen,'" Plunger said.
And to the students' surprise, they did. "They are extremely skilled craftsmen," he said.
"What our students did in six hours in our machine shop, the Indian machinists did in three minutes using a hammer and a file," said Haut Donahue, an associate professor of mechanical engineering–engineering mechanics. "They were phenomenal."
The team left their prototype with the Delhi Council for Child Welfare, which will continue to refine the design and provide custom-made braces for the local children.
The concept for this International Senior Design program was the brainchild of Sorby, a professor of mechanical engineering–engineering mechanics. "We were trying to make mechanical engineering more appealing to women," she said. "So many projects revolve around building a better race car, and we thought if we had project that helped society, more women might consider mechanical engineering as a major."
In the meantime, there's no shortage of men interested in projects that help society.
"It was easily the most incredible experience I had at Michigan Tech," said Sturos, who plans to go to medical school. "India is amazing. I'd recommend it to any student."
Plunger echoed his sentiments. "It was an incredible experience," he said. "And it was wonderful using our engineering knowledge for the good of the people of India."
The projects were made possible by the enthusiastic backing of William Predebon, chair of the Department of Mechanical Engineering–Engineering Mechanics, who allocated startup funds.
"It worked out extremely well," he said. "It's our first effort to have a global experience for our students. We've been wanting to do that for years, and now we're looking for external funding to sustain it."
What's next? Sorby and Haut Donahue are already planning International Senior Design projects for next year. One will involve the Jaipur Foot. The simple prosthesis, which was developed in India, has allowed over 1 million people worldwide who have lost a foot to walk and even run normally. But it only lasts two or three years.
"We'd like to improve it, to make it last longer," Haut Donahue said. If all goes as hoped, a new class of mechanical engineering seniors will enjoy the "incredible experience" of applying their knowledge for the good.
Michigan Technological University is a public research university, home to more than 7,000 students from 54 countries. Founded in 1885, the University offers more than 120 undergraduate and graduate degree programs in science and technology, engineering, forestry, business and economics, health professions, humanities, mathematics, and social sciences. Our campus in Michigan's Upper Peninsula overlooks the Keweenaw Waterway and is just a few miles from Lake Superior.