Bugs and Slugs and Spiders, Oh My!
By Marcia Goodrich | Published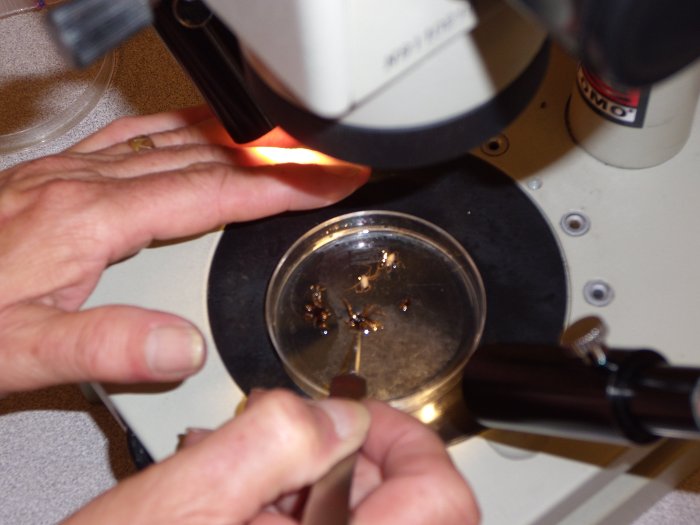 Help wanted: Must be willing to work for free. Arachnophobes need not apply.
Actually, Kathy Roberts admits that sometimes her quarry make her a little edgy. "Ew, that's a different-looking spider," she says, peering into a glass vial containing a tangle of hairy arthropod legs. Under her microscope are a couple other not-so-alarming spiders, and off to the side are rows of vials filled with all manner of creepy-crawlies.
As a volunteer research assistant, Roberts gathers slugs, ants, millipedes, nematodes, worms, and lots and lots of pill bugs—whatever falls into her traps. Under the direction of Erik Lilleskov, an adjunct professor of forest resources and environmental science, she is helping to establish baseline data on the small creatures living in and around the soil next to the USDA Forest Service rhizotron.
The rhizotron is a 75-foot tunnel, paneled on the inside with glass, which extends into a wooded hillside adjacent to the Michigan Tech campus. Built in 2006, it is an observatory on the secret world of soil and all the plants and animals therein. Roberts's work however, focuses not inside the rhizotron but on the surface dirt on either side.
"What she's trying to do is get a better handle on the macroinvertabrates, because they have a huge influence on soils," says Lilleskov. "We think we have a pretty good understanding, but we want a better one.
Macroinvertabrates are animals without a backbone that are big enough to see with the naked eye. "These are actually pretty small, but they're not microscopic," he says.
Using a bulb planter, Roberts has installed eight pitfall traps that, when lifted from the ground, look quite like the plastic beverage glasses you'd find at graduation parties. She sank four on one side of the rhizotron, which is planted to pine trees, and four on the other, which remains a natural hardwood forest.
In each cup is a splash of soapy water, which drowns any bugs that tumble inside. Roberts collects the cups and then sorts the contents into vials based on their general type. Pill bugs, also known as woodlice or roly polies, are by far the most common bugs to perish in her traps. But there are plenty of others to classify. Eventually, an entomologist will take on the task of identifying the different species. "Then we'll get more technical terms than 'slugs,' 'spiders' and 'pinchy, pokey things,'" says Roberts.
So far, she hasn't noticed much difference between the bugs collected on the two sides of the rhizotron. "We do get different kinds of critters day by day, though," she says. "It could be the weather."
Volunteers such as Roberts can make a big difference in a labor-intensive research project, says Lilleskov. "And it's wonderful to have somebody so dedicated working with us. She's one of those people who get a passion and go with it," he says. "We're hoping she stays addicted to macroinvertabrates for a long time."
Roberts has even started checking out the macroinvertabrates around the family home. "It's amazing," she says. "It's so interesting what goes on right under your feet."
Ants are cute, and spiders are, well, spiders. "They are still the biggest challenge," she says. "Here, I have to go after them, but at home, if I see something scary, I still scream and fling it across the room."
When pressed, she says the lowly slug is probably the ickiest creature in her pitfall traps. "It's kind of neat, though, when you look at the details, you forget how icky it is," she says. "Under a microscope, they're kind of pretty."
Michigan Technological University is a public research university, home to more than 7,000 students from 54 countries. Founded in 1885, the University offers more than 120 undergraduate and graduate degree programs in science and technology, engineering, forestry, business and economics, health professions, humanities, mathematics, and social sciences. Our campus in Michigan's Upper Peninsula overlooks the Keweenaw Waterway and is just a few miles from Lake Superior.