Three Huskies Named Don Hansen's All-Americans
By Dennis Walikainen | Published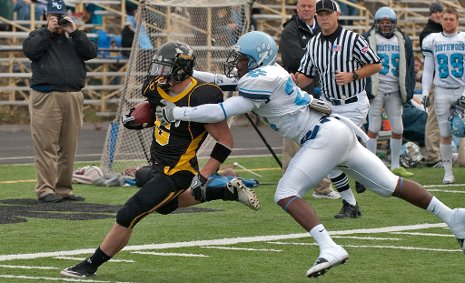 Michigan Tech football players Phil Milbrath, Matt Desotell and Tim Schmalz have been named 2010 Don Hansen's All-Americans. Milbrath gained first-team status; Desotell and Schmalz earned spots on the second team.
Milbrath, a senior running back from Norway, Mich., was a national finalist for the Harlon Hill Award as the Division II player of the year. He finished second in the nation in rushing (141.2 yards per game), fifth in all-purpose offense (178.7 yards per game) and ninth in scoring (9.6 points per game). He had eight 100-yard games and two 200-yard games with his career-best performance of 293 yards and two touchdowns coming vs. No. 1-ranked Grand Valley State. The 5-9, 200-pound Milbrath racked up 1,412 rushing yards, 375 receiving yards and 16 touchdowns during his senior campaign. He was a unanimous first-team All-American.
Desotell, a 6-3, 300-pound senior offensive lineman from Green Bay, Wis., started 37 career games, including 31 straight at left guard. He anchored an offensive line that dominated the trenches in 2010. The Huskies were second in the Great Lakes Intercollegiate Athletic Conference (GLIAC) in rushing at 261 yards per game and tops in the nation in sacks allowed, giving up only three all season.
Schmalz, a fullback from Shawano, Wis., was used mainly as a blocking back for Tech's high-powered rushing offense in 2010. The 6-1, 235-pound senior did carry the ball seven times for seven yards and two touchdowns. Both touchdowns came in Tech's 24-7 win over Wayne State.
Junior defensive end Todd Storm gained honorable mention on the Don Hansen All-America list. Storm, a defensive end who was selected as the GLIAC Defensive Lineman of the Year, averaged 1.0 sacks per game in 2010. The 6-3, 240-pound junior registered a GLIAC-leading 10.0 sacks and the league's third-highest tackle-for-loss total at 14.0. Storm is also credited with 38 tackles, four quarterback hurries, three forced fumbles and three pass breakups during the season.
The Don Hansen Division II All-America Team carries out the legacy of long-time small college football advocate Don Hansen, who died at age 75 on Aug. 29, 2010. Hansen started and published Don Hansen's National Weekly Football Gazette for three decades, selecting NCAA Division II All-America teams for the first time in 1988.
The Don Hansen Football Committee, which selects the Don Hansen's All-America Teams, is made up of sports information directors at several institutions from each of the nation's four Three regions.
Michigan Tech finished its 2010 football campaign with an 8-2 record. The Huskies tied for second place in the GLIAC.
Michigan Technological University is a public research university, home to more than 7,000 students from 54 countries. Founded in 1885, the University offers more than 120 undergraduate and graduate degree programs in science and technology, engineering, forestry, business and economics, health professions, humanities, mathematics, and social sciences. Our campus in Michigan's Upper Peninsula overlooks the Keweenaw Waterway and is just a few miles from Lake Superior.