Searching for Their Roots
By Jennifer Donovan | Published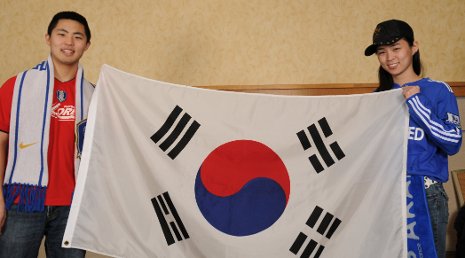 Samantha Leonard and Michael Godfrey are typical Michigan Tech students—smart, hard-working, with all-American families cheering them on. But they were born in Korea and adopted as infants by their American parents.
Recently they went on separate odysseys to their homeland. One of their goals: to find their birth families.
Leonard had been dreaming of meeting her birth family almost as long as she can remember. "When I was little, it was a huge deal," she recalls. "My parents told me I could go looking for them when I got older."
Her adoptive parents, Thomas and Debra Leonard of Canton, Mich., did their best to help their daughter connect with her Korean heritage. When she was still a preschooler, they sent her to a summer camp that focused on Korean culture, where she learned to use chopsticks by using them to pick up Starburst candies. "We could only eat the ones we picked up," she explains.
When she started school in Ann Arbor, her parents enrolled her in a Saturday morning Korean School. "That was terrifying," Leonard recalls. "It was for second and third-generation kids who spoke Korean at home. It was way over my head."
She quit Korean School when she was in fifth grade, but attended Sae Jong Korean camp each summer. By the time she reached high school, Leonard had learned that the Korean school offered an adult program that taught beginning Korean to English speakers, so she re-enrolled.
Unlike Leonard, Michael Godfrey wasn't particularly interested in Korea. He knew he was adopted, and he didn't consider it a big deal. One of only three or four Asian students in his middle and high school, he says, "I just wanted to be like everyone else."
But toward the end of high school, he began to feel that something major was missing from his life. So, when he was 16, Godfrey signed up for tae kwon do lessons. "That was my first attempt to do anything Korean," he recalls.
Then the teenager discovered the Global Overseas Adoptees Link (GOAL), run by Korean adoptees who grew up in countries outside Korea. GOAL sponsored a travel program called First Trip Home, taking adoptees from many lands back to Korea for three days in December 2008, with all expenses paid by the Korean government. Godfrey signed up, but it turned out to be during finals week at Tech, and he had to cancel his travel plans.
The Korean agency that placed him with his American parents, Jay and Jennifer Godfrey of Highland, Mich., had contacted the teenager's birth family to tell them he was coming on First Trip Home. "Then they had to call back and tell them I wasn't," says Godfrey.
Another First Trip Home was scheduled for the summer of 2009. Although the Korean government wasn't picking up the $1,500 airfare this time, another program did, and in August 2009, Godfrey headed off for two weeks in the land of his birth.
"It was a weird experience," he recalls. "Everyone looked Korean, but they didn't sound or act Korean. They sounded French or Italian or American—wherever they had grown up."
When Godfrey left for Korea, he didn't really expect to meet his birth family, but he hadn't been in Korea long when someone from GOAL informed him: "You have a brother and a sister, and you are going to meet your birth family in about three days."
Study-Abroad Takes Samantha "Home"
Meanwhile, Leonard had been admitted to the University of Michigan and transferred to Michigan Tech to study materials science and engineering. She thought a lot about the long-anticipated journey to search for her roots. She also wanted to study overseas. So she decided to combine the two projects.
Working through Michigan Tech's Study Abroad Program, Leonard was accepted for a semester at Yunsei University in Seoul, where she fulfilled her Tech humanities requirement by studying Korean history, language and culture—in Korean. A host family agreed to help her with her Korean if she would teach them English.
But the search for her birth family soon hit a roadblock. Leonard wrote a letter to her birth mother, which her American adoption agency hand-delivered to its counterpart. After a long wait, she received an email from the Korean adoption agency.
"They said they found a woman with the same name as my birth mother, but she was from a different province. My social worker said that my papers were wrong , so my birth mother's age, name, or place of residence could be incorrect," Leonard recalls. "They said there was nothing more they could do."
Michael Meets His Korean Family
In Korea, on the day he was due to meet his birth family, Godfrey took special care with his hair and clothes. Then he took the subway to the meeting, more excited than nervous. He arrived drenched with sweat in the steamy August weather.
Up until then Godfrey had been told that when he was born, his birth parents were getting a divorce and decided to give him up for adoption to give him a chance at a better life. During the minutes before their reunion, a social worker told him the true story: that his mother had been in a coma after he was born and was not expected to live.
"That changed my entire picture of the people I was about to meet," he says. "It was very disorienting, like pulling one of the support beams of my life out from under me."
By that time he could see shadows through the agency's big frosted-glass door.
Then the door swung open, and "this little woman, a complete stranger, is standing there in tears," Godfrey recalls. "She rushed over and hugged me. My shirt had dried by then, but she was drenching it again."
He met his 18-year-old brother, a whiz kid who had completed a computer engineering certificate at the age of 9 and now was studying physics at the university. He also met his 15-year old sister.
Godfrey spent the next day and a half with his Korean family, while a GOAL volunteer interpreted. He learned that his Korean name is Sang-ho Lee. The family bought a cake to celebrate their first "birthday" with the son they hadn't seen for 20 years. "We ate it with chopsticks," he recalls, laughing.
"I can't say I felt like part of the family, but it felt like I had a place there," Godfrey says. "They were ecstatic to have found me, and I was pretty happy about it myself."
Now Godfrey writes letters to his birth family. GOAL provides translation services. He tells them about Michigan Tech, about his classes and his daily life in the US. "I am trying to learn a little Korean," he says. "Deep down, I think they want me to be more Korean than I am," he says. "I want that to be part of me, but I'm an American."
Samantha is Satisfied
When the adoption agency threw up its hands, Leonard gave up on locating her birth mother, but she did manage to locate her foster mother, who cared for little Lee Hye Young until the Leonards adopted her.
"Even though I was unsuccessful in finding my birth mother, I'm not too upset," she says. "It's not as important to me as it was when I was younger and being able to meet my foster mom was worth all the effort because it meant the world to her. I also became really close to my host family, so I feel like I've gained much more than I might have lost."
In the spirit of paying it forward, Leonard works as a counselor at a Korean summer camp for Korean-American children, where she leads the Korean culture class. "A majority of these kids, maybe 60 or 70 percent, have never been to Korea, and I feel like my experience in Korea really made an impression," she says." It was really good for them to see my pictures and learn about the little differences you won't see in tour books and videos."
Michigan Technological University is a public research university, home to more than 7,000 students from 54 countries. Founded in 1885, the University offers more than 120 undergraduate and graduate degree programs in science and technology, engineering, forestry, business and economics, health professions, humanities, mathematics, and social sciences. Our campus in Michigan's Upper Peninsula overlooks the Keweenaw Waterway and is just a few miles from Lake Superior.