Governor Appoints Two Michigan Tech Board of Trustees Members
By Marcia Goodrich | Published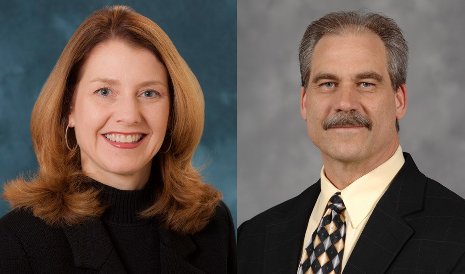 Governor Rick Snyder has appointed two Michigan Technological University alumni to the University's Board of Trustees, effective immediately.
The new Board members are Julie Fream, vice president of Visteon's North American customer group, global strategy and communications, and Terry Woychowski, General Motors' vice president for global vehicle program management.
"I'd like to thank Governor Snyder for two great appointments," Michigan Tech President Glenn Mroz said. "These are people who have lived and breathed Michigan Tech for many years and are dedicated to accelerating its success.
"I'd also like to express my gratitude to the governor for making these appointments a priority," Mroz added. "It illustrates his appreciation for higher education's role in the state, particularly as it relates to the business community."
Fream graduated in 1983 from Michigan Tech with a bachelor's degree in chemical engineering and earned an MBA from the Harvard Business School in 1987. She began her career at Visteon in 1998 and previously worked for General Motors, Ford Motor Company and TRW.
In 2002, Fream appeared on Crain's Detroit Business's "40 under 40" list for her sales leadership at Visteon. In 2005, she earned the Anti-Defamation League's Woman of Achievement Award for fostering an inclusive and diverse work environment at Visteon.
Fream, of Birmingham, is a member of the University's Distinguished Academy of Chemical Engineering. She received Michigan Tech's Outstanding Young Alumni and Outstanding Service Awards and was the featured speaker at Midyear Commencement in 2003.
"Michigan Tech has a key role in educating Michigan's future engineers and leaders," said Fream. "I'm honored to serve on the Board and support the University as it moves forward in the coming years."
Woychowski, of Commerce Township, graduated from Michigan Tech in 1978 with a bachelor's degree in mechanical engineering and attended Duke University's Global Executive Development Program in 1988. He has received an Honorary Doctorate of Business Management from Indiana Wesleyan University. For most of his career he has worked at GM, serving as chief engineer for GM's full-size pickups and SUVs from 1997 until 2009, when he accepted his current position.
Woychowski has received GM's highest honor, the Chairman's Award, four times and is president of the Engineering Society of Detroit (ESD). He played a key role in the development of a successful collaboration among Michigan Tech, the ESD and the auto industry to retrain automotive engineers in hybrid electric vehicles and technologies.
He is a member of Michigan Tech's Academy of Mechanical Engineering–Engineering Mechanics and the College of Engineering Industrial Advisory Board. His family's Woychowski Charitable Foundation provided funding for two Michigan Tech Senior Design teams, including a project to develop a bicycle-powered grain mill for use in Africa.
"The education and hands-on training I received at Michigan Tech played a major role in the success I've achieved in my career," said Woychowski. "I'm pleased to be able to give back and serve as a Board member to help the University achieve its vision."
Fream and Woychowski fill the seats previously held by Board members Ruth Reck and Russ Gronevelt. Their eight-year terms expire Dec. 31, 2018.
The governor's appointments stand confirmed unless disapproved by the state senate within 60 days.
Michigan Technological University is a public research university, home to more than 7,000 students from 54 countries. Founded in 1885, the University offers more than 120 undergraduate and graduate degree programs in science and technology, engineering, forestry, business and economics, health professions, humanities, mathematics, and social sciences. Our campus in Michigan's Upper Peninsula overlooks the Keweenaw Waterway and is just a few miles from Lake Superior.