Mroz Tells Campus University Will Stay on Track Despite Proposed Budget Cuts
By Jennifer Donovan | Published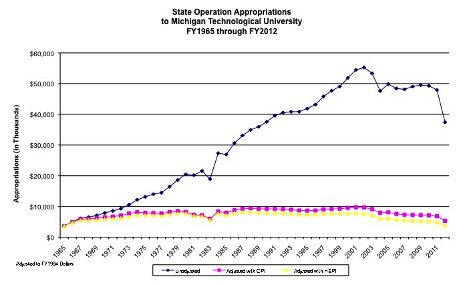 At a crowded campus forum on Monday, Michigan Technological University President Glenn Mroz discussed the implications for Michigan Tech of Governor Rick Snyder's proposed 22 percent cut in state funds for the University.
Governor Snyder's budget proposal for the next fiscal year would reduce Michigan Tech's state allocation 22 percent, from $47.9 million this current fiscal year to $37.4 million in fiscal year 2012. The state's fiscal year runs from Oct. 1-Sept. 30. The University's fiscal year is July 1-June 30.
The proposed budget offers public universities the option to reduce the cut to 15 percent if they agree to limit their tuition increase for next year to 7 percent or less. Under that option, Michigan Tech would be eligible for $3.32 million in "tuition restraint" dollars, bringing its total state appropriation to $40.8 million. With the proposed 15 percent reduction, state funding would represent 19 percent of Michigan Tech's total operating budget, having fallen from 35 percent as recently as 1999.
It is important to note that the Governor's proposal is just that—a proposal, said Mroz. It is now being deliberated in the state legislature, so the final budget for fiscal 2012 is yet to be determined.
Meanwhile, Michigan Tech has developed some guiding principles for budget reductions.
The University's strategic plan will continue to drive resource allocation. Its three key thrusts: 1) attract and retain the best students, faculty, and staff; 2) deliver distinctive programs; 3) promote outstanding research and scholarship.
A balanced budget will be maintained.
The commitment to affordable tuition and financial aid support will continue. Assuming the Governor's proposal is enacted by the legislature, next year's tuition increase will not exceed 7 percent for in-state and out-of-state students.
Preparing for budget reductions in academic and administrative areas, the aim is to preserve Michigan Tech's core mission. Specific budget reductions will be in the low single digits and will be administered strategically rather than across the board.
All functions and activities are being reviewed. One strategy will be to seek consolidation of positions and realignment of responsibilities through attrition.
Employee furloughs and across-the-board pay reductions are not being considered. Some reductions will come from delays in filling open positions.
Strategic investments to insure Michigan Tech's future as a premier technological university will continue.
To put these reductions in perspective, Mroz said, they represent only 3 percent of the University's total revenue.
Even facing declining state support, Mroz said that Michigan Tech this year has made notable progress on key aspects of its strategic plan and priorities:
Applications and deposits for next fall's class are on track, with increases in graduate and female students.
The ranks of female faculty have grown to 26 percent of the tenured and tenure-track faculty.
Research expenditures will approach $70 million this year, up from $63 million last year.
The "Generations of Discovery" fundraising campaign recently topped $140 million toward its $200 million goal.
Mroz concluded on an encouraging note. "While the proposed budget reductions present challenges, we will respond to them, and they will not deter us from our objective of being a world-class technological research university," he said. "Michigan Tech's greatest asset is its people—the talented and motivated students, faculty and staff. Each of us needs to forge ahead with our core mission in mind and continue the exceptional work that goes on at Michigan Tech every day. We embrace our students, encourage intellectual curiosity and achievement, and foster a community that is second to none. Michigan Tech is special, a great place to work, and it will continue to be so for years to come."
Michigan Technological University is a public research university, home to more than 7,000 students from 60 countries. Founded in 1885, the University offers more than 120 undergraduate and graduate degree programs in science and technology, engineering, forestry, business and economics, health professions, humanities, mathematics, and social sciences. Our campus in Michigan's Upper Peninsula overlooks the Keweenaw Waterway and is just a few miles from Lake Superior.