Helping Iraq One Project at a Time
By Dennis Walikainen | Published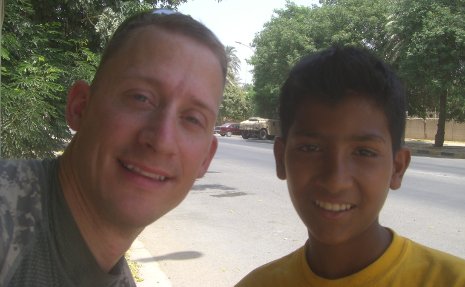 An organization in Iraq led by a Michigan Technological University alumnus is seeking to help Iraqis rebuild their nation.
The Iraqi Hope Foundation (IHF), founded by Major Don Makay '99, is a nonprofit "dedicated to the stability and prosperity of Iraq through investment in private, small and mid-size business and entrepreneurs," according to its mission statement.
He started the effort in 2008, along with veterans and Iraqis."Both the military and the Iraqis have sacrificed a lot of time and effort serving there," says Makay, who has served in Iraq and Afghanistan himself. "Many of us lost friends, family or comrades. We wanted to be a part of the long-term solution, which we saw in private business and opportunity. And we had many experiences with qualified, skilled and educated Iraqis who would be glad to work if they had access to capital."
That access was mostly blocked, due to the unsettled status of the Iraqi government and businesses.
"The final reason was the intrinsic link between unemployment and crime, terrorism and instability," Makay says. "In the end, we wanted to see Iraq become prosperous since we had seen so many suffer, not only during the recent campaign but historically. Thus, our motto—'Honoring the Sacrifice by Building the Future.'"
The foundation, which has an office in Constantine, Mich., also honors fallen heroes. One example is the Al Mustakbal ("The Future") construction materials company. This Iraqi business was built in memory of Captain Greg Dalessio. "He was a friend of mine who served with me in Germany and again in Iraq," Makay says. "He was killed in '08 while we were both on deployment in Iraq."
With $25,000 in seed money, the Iraqi-owned Al Mustakbal was able to build an office, storage space, and begin marketing its services in Baghdad. The business will employ 10 people and will repay part of the grant.
"IHF helped me establish something for my future," says Al Mustakbal owner Muthanna Badiya. "It helped me build this project, which will help me and Iraqis to do business and move the country's economy forward."
The foundation also has helped the mother of an Iraqi who served with US troops. They helped return her son's body to Baghdad from the US after he died this September.
"Alex" (his real name remains secret for security reasons) was an interpreter who served under Makay in Baghdad in 2006. He lost both legs from an insurgent's roadside bomb while on patrol with Makay's infantry company. Makay's men saved Alex, only for him to endure more than 70 surgeries in Jordan and the US over a five-year period. His wounds were so bad, he was never able to wear prosthetics.
"I visited him several times," Makay says. "Sadly, he died this September. "While he lived, we promised we would ensure that he was returned to his family in Baghdad. My team helped synchronize the effort, with the insurance company, to help transport his remains back to his family in Baghdad. My representatives in Iraq received the remains, helped prepare him and were in the funeral procession. We also raised $5,000 and delivered it to his single mother who is raising two more boys."
The foundation is also working on other humanitarian efforts, such as providing winter clothes for the poor.
"Since we are in fundraising phases, we are seeking government sponsorship," he says. "But, we can't secure that unless we build and can prove that we can do more, and we can't do that until we raise initial capital to grow."
Makay stresses that this foundation, while dedicated to veterans, is focused on helping Iraqis, .
"We want to emphasize that IHF is a program to honor veterans' sacrifices by ensuring what they fought and died for was not in vain," he says. "Also, you will notice that the program is about Iraq's suffering: that is why you don't see any photos of US military on the website, because it is really about Iraq's prosperity, which will ultimately honor our effort."
The foundation's goal is lofty: $300,000 in 15 months, and it is over 10 percent there. The founders have spent over $110,000 of their personal funds in building the organization.
"This initial capital will help us not only do more projects, but get a couple of full-time workers," Makay says. "With that, we can start showing the results that will eventually make the government feel comfortable enough to sponsor us. The US State Department has reviewed our program and recently accepted us among others as being eligible for future proposal submission."
Makay received his bachelor's degree in scientific and technical communication and an associate degree in electrical engineering technology. He was a member of Michigan Tech's Army ROTC.
Michigan Technological University is a public research university, home to more than 7,000 students from 60 countries. Founded in 1885, the University offers more than 120 undergraduate and graduate degree programs in science and technology, engineering, forestry, business and economics, health professions, humanities, mathematics, and social sciences. Our campus in Michigan's Upper Peninsula overlooks the Keweenaw Waterway and is just a few miles from Lake Superior.