DENSO Student Design Center Expands Horizons of Michigan Tech Engineering Students
By Jennifer Donovan | Published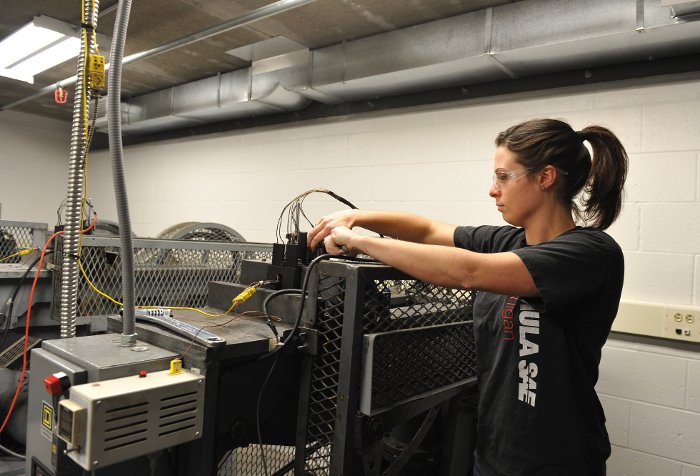 When Dallas Smolarek started working in the DENSO Design Center at the Keweenaw Research Center, she was afraid to use a wrench.
Sixteen months later, the mechanical engineering major is comfortable not only holding, but using just about any tool. "I can even fix my own snowmobile," she reports.
Smolarek is one of 10 undergraduates who are benefitting from a grant to Michigan Technological University from the DENSO North America Foundation, the philanthropic arm of the well-known automotive electronics supplier. In addition to supporting Michigan Tech's Enterprise Program, the DENSO North America Foundation's $50,000, 3-year grant outfitted and supports a bright, spacious student design center with a computer work station for each student and state-of-the-art 3D modeling software. The center is located in the recently opened new Keweenaw Research Center (KRC) building.
There was a student design center before DENSO, but it was a windowless cubbyhole in one of the old military barracks that used to house the KRC.
Smolarek's role in the student design center is unique. Her fellow students design and analyze parts—mostly automotive—but Smolarek's job is to test parts for clients such as General Motors and the US Department of Defense, to make sure they do what they are supposed to do.
She tests all kinds of things—the resilience of hard rubber engine mounts, the ability of shafts to stand torque or twisting pressure. She makes 3-D computer models of tank parts, to see if a new tool designed to raise the tank's wheel when the track runs under it actually will do its job.
She does her share of designing too, since measuring the mechanical properties of one part often requires designing other parts to properly hold the test part in place.
Smolarek has been working 20 hours a week in the student design center during the school year and full-time during summer and academic breaks.
She can't speak highly enough of her design center experience and particularly of one of her mentors, KRC Associate Research Scientist Eric James. "He's taught me so much," she exclaims. "It 's so different, actually doing it myself. There are so many things you never think about until you see how and why things fail. That makes what I learn in my classes make sense."
Smolarek, who grew up in Chesterfield, Mich.., north of Detroit, didn't come from a family of engineers, but she was always good in science, technology, engineering and math (STEM) in school, and she was always attracted to automotive technology.
Although she won't graduate until May 2012, the mechanical engineering student already has a job offer in southeast Michigan, and other KRC clients are considering offers to hire her.
Smolarek has big plans for the future. She wants to help make internal combustion engines more fuel efficient while producing lower emissions. She knows she will be a minority – a woman in automotive engineering – but it doesn't worry her a bit. "It's a professional atmosphere," she says. "It's all about being competent to do the job. Most of the time I forget that I'm a woman engineer. I'm an engineer."
Melissa Smith, secretary of the DENSO North America Foundation, says Smolarek is exactly the type of innovative future engineer that the foundation is dedicated to supporting. "We believe our support of Michigan Tech and the design center benefits both of us, as it offers students an opportunity to be creative, to learn hands-on and to succeed as young professionals," she explains.
Michigan Technological University is a public research university, home to more than 7,000 students from 54 countries. Founded in 1885, the University offers more than 120 undergraduate and graduate degree programs in science and technology, engineering, forestry, business and economics, health professions, humanities, mathematics, and social sciences. Our campus in Michigan's Upper Peninsula overlooks the Keweenaw Waterway and is just a few miles from Lake Superior.