Alumni Reunion Kicks Off Thursday, Aug. 4
By Marcia Goodrich | Published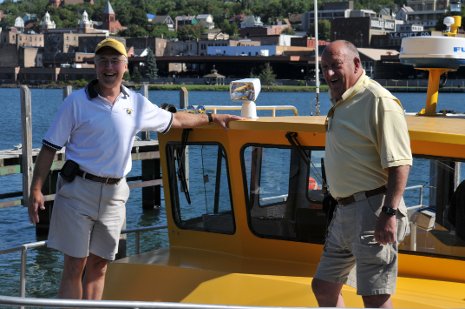 Michigan Technological University's annual Alumni Reunion is set for Thursday-Saturday, Aug. 4-6. Everyone is invited to enjoy the wide variety of activities and get reacquainted with old friends and former students.
The School of Forest Resources and Environmental Science is hosting a number of events to mark its 75th anniversary. Other special reunion groups include the Varsity/Jazz Singers; the classes of 1961, 1971, 1981, 1991, and 2001; the Golden M's, volleyball, cross country, track and Nordic skiing alumni; and the Sigma Rho, Theta Tau and Kappa Delta Psi fraternities.
The Alumni Reunion registration area opens on Wednesday, Aug. 3, in the Memorial Union. You can get your tickets there for the reunion events listed below, unless otherwise indicated.
A full schedule of events is available on the Alumni Relations website.
Thursday, Aug. 4
Alumni Relations Director Brenda Rudiger will review reunion activities at the Welcome Breakfast, which begins at 8:30 a.m. A guided campus walking tour follows. Tickets for the breakfast are $12.
Two faculty members will discuss their work during two Tech Talks, to be held in Fisher 139. At 10 a.m., Professor Ann Maclean of the School of Forest Resources and Environmental Science will present "Wood to Wheels: A Working Example of Interdisciplinary Research at Michigan Tech."
Tim Scarlett, an associate professor of archaeology, will follow at 11 a.m. with the Tech Talk "Mining, Smelting and Mills, Oh My!"
At noon, you can join alumni reliving their dining hall experiences in Douglass Houghton Hall. Lunch tickets are $12.
The dedication ceremony for the A.E. Seaman Mineral Museum begins at 1:30 p.m. The new building is located on Sharon Avenue near Garnet Street, adjacent to the Advanced Technology Development Complex.
At 3 p.m., the dedication ceremony for the Paul and Susan Williams Center for Computer Systems Research will be held on the fifth floor of the Electrical Energy Resources Center (EERC).
The Pasty Picnic begins at 4 p.m. on the campus green between EERC and the Chemical Sciences and Engineering Building. The meal includes salads, desert, beverages and three things Tech alumni hold dear: pickled eggs, pasties and beer. A keg of Keweenaw Brewing Company product will be available. Tickets are $14.
At 5 p.m., the Keweenaw Alumni and Friends Chapter is hosting a free social at the Keweenaw Brewing Company. All alumni and friends are welcome.
The School of Forest Resources and Environmental Sciences is hosting Outdoor Movie Night, featuring the Tom Hanks movie "Big." The movie begins at 9:30 p.m. in the forestry building parking lot. Bring a lawn chair if you have one.
Friday, Aug. 5
President Glenn Mroz will present an update on the University at the All-Class Alumni Breakfast, set for 8:30 a.m. in the Memorial Union Ballroom . Tickets are $12.
The Ford Forestry Center in Alberta will hold an open house from 9:30 a.m. to noon, including tours of the historic sawmill.
The Class of 1961 Golden M Pinning Ceremony begins at 10 a.m. in Memorial Union Ballroom B. Also at 10 a.m., class year gatherings for the other recognized classes will be held in the Memorial Union's Keweenaw Commons.
You can join students for a casual lunch in Wadsworth Hall between 11 a.m. and 1 p.m. The cost is $8.
Most University departments and the Van Pelt and Opie Library are holding open houses Friday afternoon, starting at 1:30 p.m.
At 2 p.m., Admissions will lead guided campus tours, starting at its office on the ground floor of the Administration Building.
The School of Forest Resources and Environmental Science will present its alumni awards at 3 p.m., followed by a tree-planting ceremony honoring Gene Hesterberg. The former department head passed away in September.
At 6 p.m., see volleyball alumnae battle it out during a reunion game in the Student Development Complex.
The annual Alumni Reunion Dinner begins at 5:30 p.m. with a social hour. Dinner is served at 6:30 p.m., following class pictures. Tickets are $30.
Saturday, Aug. 6
This is the day to get away from campus and see the Keweenaw. First, you can canoe the Sturgeon River, hosted by the Outdoor Adventure Program. It's a nice, easy paddle with some great scenery. Tickets, including snacks, transportation and all necessary gear, are $25. Participants meet at the Memorial Union at 9 a.m. and return about noon.
The School of Forest Resources and Environmental Science will hold an open house at the Otter River Cabin from 9:30 a.m. to 12:30 p.m. Directions to the cabin, located southeast of Tapiola, are posted on the School's reunion website.
At noon, tour the historic Quincy smelting works, located in Ripley on M-26. Hard hats are provided for this fascinating 45-minute visit to an historic industrial complex. Cost is $5, payable at the site.
The Alumni Reunion Golf Outing begins at 12:30 p.m. This four-person scramble is supported by the School of Business and Economics and open to all. The top three teams receive cash prizes, and all golfers get a swag bag. The cost is $45 per person, $25 for students. To register, email golfouting@mtu.edu or call Rebecca Middlebrook at 906-487-2788.
Visit some of the area's famous waterfalls with the Outdoor Adventure Program. Participants meet at the Memorial Union at 2 p.m. and head out to see Hungarian Falls, Jacob Falls, Eagle River Falls, and more. After the 2-1/2-hour tour, enjoy a lakeside cookout, which is included. Tickets are $30.
At 5 p.m., alumni from the Jazz and Varsity Singers gather in the Rozsa Center for the Performing Arts for an open mic session. Everyone is invited, and the event is free.
Michigan Technological University is a public research university, home to more than 7,000 students from 54 countries. Founded in 1885, the University offers more than 120 undergraduate and graduate degree programs in science and technology, engineering, forestry, business and economics, health professions, humanities, mathematics, and social sciences. Our campus in Michigan's Upper Peninsula overlooks the Keweenaw Waterway and is just a few miles from Lake Superior.