Tech's Chem-E-Car Qualifies for the Nationals
By Marcia Goodrich | Published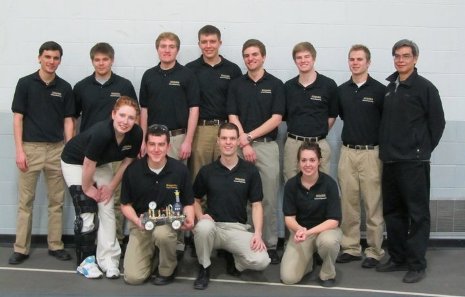 The Michigan Technological University Chem-E-Car team took a silver at the regional competition, held April 8-9. Their second-place finish qualifies them to compete in the national contest, to be held Aug. 16-21 at the University of Minnesota-Twin Cities.
Michigan Tech hosted the 11-team event, which is part of the American Institute of Chemical Engineers North Central Regional Conference. Each Chem-E-Car team builds a shoe-box-size vehicle powered by a chemical reaction. During the competition, each entry must attempt to travel a specific distance carrying a specific load. "It's not until you get to the competition that you know how much you'll have to carry and how far the car has to travel," said team leader Ross Koepke, a chemical engineering major.
Since 2001, the Michigan Tech team had opted to power their car with a battery. This year, they switched to a hydrogen fuel cell.
"The engineering challenges were to make it extremely reliable and safe and to get all the systems working well together," Koepke said. "So we over-engineered everything we did; that worked out great, because we won the Best Application of Safety award."
The team initially wanted to build a fuel cell from scratch, but decided to postpone that project until this summer. This year, they ordered a premade fuel cell to gain more experience before building their own.
They made the rest of their Chem-E-Car themselves, often from local parts. They got their brass fittings from Ace Hardware in Calumet ("Those guys are great," said Koepke), and they built their own circuit board for the controls. Team members also fabricated the wheels and axles from aluminum on a lathe.
"We're all chemical engineers, but two team members taught themselves how to design electrical circuits, and Mike Chase and Chuck Sannes of the electrical and computer engineering department helped us create a printed circuit board" he said.
Koepke called the experience both rewarding and demanding. "The car required over 600 hours of work to build and 160 hours of testing. While there were challenges related to our coursework like calculating the maximum pressure of the brass pipeline, the project also required students to learn diverse skills outside of their major such as machining and circuits," he said.
"They were great," said team advisor Tomas Co, an associate professor of chemical engineering. "They really struggled, working their way from the basic design through testing, and they put in some long nights." The effort paid off, and Co is optimistic about their chances in the nationals. "During the testing, they got even closer [to the finish line] than during the regional competition," he said. "We'll be competing against Chem-E-Car from all over the country, but with just a little more tweaking, we might have a chance at winning."
You can view the Michigan Tech Chem-E-Car and the first and third place entries, from the University of Akron and the University of Minnesota-Twin Cities, respectively, on the chemical engineering department website.
Michigan Technological University is a public research university, home to more than 7,000 students from 60 countries. Founded in 1885, the University offers more than 120 undergraduate and graduate degree programs in science and technology, engineering, forestry, business and economics, health professions, humanities, mathematics, and social sciences. Our campus in Michigan's Upper Peninsula overlooks the Keweenaw Waterway and is just a few miles from Lake Superior.