Murthy Receives Distinguished Service Award
By Marcia Goodrich | Published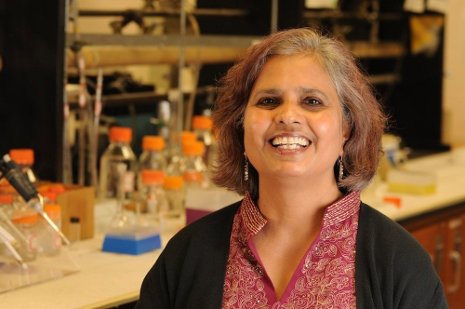 Michigan Technological University adopted a paid maternity leave policy in January 2010, due in great part to Pushpalatha Murthy. For her efforts, Murthy will receive the 2011 Distinguished Service Award, which carries a prize of $2,500.
Murthy, a professor of chemistry and director of the Women in Science and Engineering group, was nominated for the honor by Faith Morrison, an associate professor of chemical engineering. After the maternity leave issue was raised at the spring 2009 WISE meeting, Murthy formed a working group with Morrison and Tammy Haut Donahue, associate professor of biomedical engineering, with the goal of finalizing a University policy by the first of the year. "I am amazed that this significant policy change could have been brought about with such speed," Morrison wrote in her nomination. "I credit Pushpa Murthy."
Murthy says there's plenty of credit to be divvied up: Morrison and Donahue put in extraordinary effort, Human Resources staff contributed their expertise, and Provost Max Seel and President Glenn Mroz supported the measure.
"I feel really honored, especially because I was nominated by my peers, but really it was the efforts of a lot of people," Murthy said. "It always takes many people to make these things happen. A lot of people should share this recognition."
Before the policy was adopted, the University followed the federal Family and Medical Leave Act rules, which provided 12 weeks of unpaid leave. The new policy gives all qualifying mothers, both faculty and staff, six weeks of paid leave. Faculty have other options: Instead of taking six weeks off at full pay, lecturers may take a leave from teaching for a semester at half pay. Tenured and tenure-track faculty can choose to take a leave from teaching for a semester and receive full pay if they continue advising graduate students and conducting research.
"We really needed a maternity leave policy, and it's wonderful that faculty and staff are taking advantage of it," Murthy said. "I get emails saying thank you."
Morrison also cited Murthy for mentoring pregnant faculty and staff, both before and after the policy was adopted. In addition, Murthy was recognized for her efforts on behalf of women faculty dealing with gender-related issues within their academic units.
"Pushpa worked assiduously with these women, calling together senior women faculty from various other departments to think about the problems and solutions and continues to work with these affected faculty members to improve their working situation," said Morrison. "This service is unrecognized, uncompensated and indispensible."
Lastly, Morrison cited Murthy for continuing efforts to promote employees' work-life balance. Employees who adopt children and fathers who are primary caregivers are not yet included in the policy, and Murthy has agreed to serve on the provost's working group assigned to deal with the issue.
Murthy stressed that her family-leave efforts are not limited to a narrow fraction of the University community. "These aren't just women's issues," she said. "This affects all of us. Our goal is to make Michigan Tech a friendlier place."
"There are issues that are specific to women in underrepresented fields, like STEM," she added. "People don't understand the burden you face when you are such a small minority. We want to make sure everyone has a voice and feels their contributions are recognized."
Michigan Technological University is a public research university, home to more than 7,000 students from 60 countries. Founded in 1885, the University offers more than 120 undergraduate and graduate degree programs in science and technology, engineering, forestry, business and economics, health professions, humanities, mathematics, and social sciences. Our campus in Michigan's Upper Peninsula overlooks the Keweenaw Waterway and is just a few miles from Lake Superior.