Michigan Tech Names New Residential Apartment Building Hillside Place
By Jennifer Donovan | Published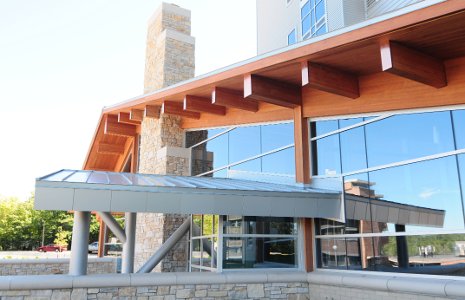 Michigan Technological University's Board of Trustees voted at its regular meeting today to name the University's new residential apartment building Hillside Place. The 192-bed student residence on the hill above McNair Hall opened this fall.
"Hillside Place provides a distinctive name while keeping open the possibility of renaming it in the future if a donor were to come forward," explained Les Cook, vice president for student affairs.
"The new apartment building is really upscale living for our students," Cook went on to say. It features apartment units with private bedrooms for four students. Each unit has air conditioning and in-floor heating, two bathrooms, a living area and a kitchen with granite countertops and stainless steel appliances. The apartments are fully furnished. Study lounges at the west end of each floor provide panoramic views of the campus and the Keweenaw Waterway, and there is a fitness center, a sauna and a game room for residents' use.
The Board also approved three future capital outlay construction projects that will be submitted to the state:
A Next Generation Energy Complex expected to cost $29.5 million.
A Human Health Research Center estimated to cost $35 million.
A Manufacturing Research Center projected to cost $21 million.
Each year the University is asked to submit a prioritized list of building projects it would like to undertake in the future. State funding of any of the projects is not guaranteed.
In 2008, the state capital outlay bill provided $18.7 million to build the $25.3 million Great Lakes Research Center now under construction at Michigan Tech. The University matched the rest of the cost.
In other business, the Board of Trustees:
Approved a conservation easement on 80 acres of forested wetland owned by Michigan Tech in Keweenaw County.
Heard plans for development of a nonprofit corporation called the Michigan Tech Entrepreneurial Support Corporation, to enhance opportunities for faculty, staff and students to commercialize their discoveries. It will fill the gap between technology discovery and the formation of a start-up company, said David Reed, vice president for research.
Voted to grant an honorary degree to U.S. Representative Bart Stupak. The degree will be awarded at Michigan Tech's December 2010 Commencement, at which Stupak will speak.
Accepted proposed revisions to the Graduate Student Government constitution.
Michigan Technological University is a public research university, home to more than 7,000 students from 60 countries. Founded in 1885, the University offers more than 120 undergraduate and graduate degree programs in science and technology, engineering, forestry, business and economics, health professions, humanities, mathematics, and social sciences. Our campus in Michigan's Upper Peninsula overlooks the Keweenaw Waterway and is just a few miles from Lake Superior.