Michigan Tech Kicks Off $200 Million Capital Campaign
By Jennifer Donovan | Published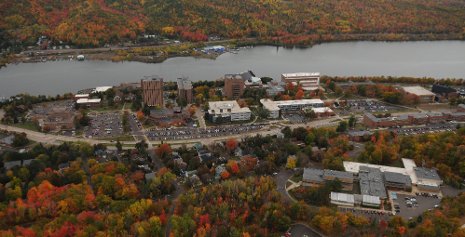 Michigan Technological University is kicking off the public phase of a $200 million multi-year fund-raising campaign, President Glenn Mroz announced tonight. And appropriately enough on its 125th anniversary, Michigan Tech has already raised more than $125 million, he said, taking the University more than half way to its goal.
Called "Generations of Discovery," the campaign will enable Michigan Tech to acquire the resources to raise its recognition as a premier research university. It will focus primarily on the University's strategic plan goal of attracting and supporting the very best faculty, students, and staff by increasing the number of endowed faculty positions and increasing endowed student financial aid.
Endowments are permanently invested gifts that generate spendable income annually while continuing to grow. Endowed faculty chairs and professorships, as well as scholarships and graduate fellowships, are of particular importance to Michigan Tech's future.
"This campaign funding will help us attract bright students and world-class professors," said Mroz. "It will give us the resources we need to drive innovation and be counted among the nation's finest technological universities."
Already the "quiet phase" of the campaign, which began in 2006, has helped Michigan Tech increase its endowed faculty positions more than four-fold—from 4 to 17—and has raised nearly $11 million in new scholarships and fellowships for students.
New Gifts
At a campaign kickoff dinner, Mroz also announced two new $1 million gifts, one from Tom Shaffner and the other from John and Ruanne Opie. He also reported that the General Motors Foundation has given Michigan Tech another $160,000, bringing its support for the University this year to $244,000 and the total support from the GM Foundation and GM over the past 35 years to more than $8.3 million.The gifts bring the campaign total to date to $127.4 million.
Shaffner, a 1957 Tech alumnus with Bachelor of Science degrees in chemical engineering and business engineering administration, is chairman of the board of Dearborn Precision Tubular Products. A highly specialized machine shop specializing in high alloy tubing, aircraft arts and oil field equipment, Shaffner's company uses a technology he developed to produce exceptionally long, straight tubes. His company is credited with developing deep-hole drilled components for the first US Navy nuclear submarine.
Shaffner is also helping fund a new building to house the A.E. Seaman Mineral Museum. It will be built adjacent to the Advanced Technology Development Complex on Sharon Avenue.
John Opie graduated from Michigan Tech in 1961 with a Bachelor of Science in Metallurgical and Materials Engineering. He spent most of his career with General Electric, retiring in 2000 as vice chairman/executive director. He delivered Tech's commencement address in 1987 and again in 2001, receiving Honorary Doctorates in Engineering and Business.
Opie and his wife, Ruanne, recently donated $1 million for the construction of ten new skybox suites in Michigan Tech's John MacInnes Student Ice Arena. The new suites, all on the west end of the rink, can accommodate eight to fourteen people each and three skyboxes for larger groups. The Opies previously funded a 54,000-square-foot addition to the library and established an endowment to support the Department of Materials Science and Engineering.
Other gifts have enabled the University to pursue excellence in many different areas. Thanks to various campaign donors, Michigan Tech has been able to establish the Pavlis Institute for Global Technological Leadership, positioning Michigan Tech students to create the future for a prosperous and sustainable world. The University is expanding and improving facilities for its Electrical and Computer Engineering and Computer Science and Engineering programs, for Humanities, and for the Seaman Mineral Museum. Other donors enabled Tech to install lights and artificial turf at Sherman Field and to bring varsity women's soccer to Tech.
Alumni Role
Alumni play a key role in any capital campaign. Electrical engineering alumnus Dave House ('65), chairman of Brocade Communication Systems of San Jose, Cal., and a longtime executive at Intel, is chairing the national campaign committee.
"The nation's best universities have grown their endowments, brought internationally recognized scholars to their labs and classrooms and built top-flight facilities where great ideas are fostered," said House. "Michigan Tech is focused on being one of these great universities, and it needs your support to achieve this goal."
House himself is a staunch supporter of Michigan Tech. The House Family Foundation has endowed several professorships at Michigan Tech, including one held by Tim Schulz, dean of the College of Engineering. A gift from the House Family Foundation enabled the University to purchase the Michigan Tech Research Institute in Ann Arbor in 2006. The House Family Foundation also is currently funding improvements in electrical and computer engineering labs and classrooms.
But a successful campaign depends on more than alumni. All of Michigan Tech's partners—corporations and foundations, as well as friends on campus and throughout the community, state and nation—play a key role in helping the University reach its goal by 2013. Corporations and foundations are responsible for over $35 million of contribution to date in the campaign. Longtime corporate partner General Motors just gave the University $160,000 to support student enterprises, senior design projects, diversity programs and student groups, another in a string of multiple campaign contributions.
"While a robust endowment is essential if we are to continue moving forward, we also need ongoing support for non-endowed programs and student life initiatives," said George Butvilas, chair of the Michigan Tech Fund Board of Trustees. "We want our alumni and friends to know that gifts of all sizes can make an enormous difference, for a single student or an entire program."
Michigan Technological University is a public research university, home to more than 7,000 students from 60 countries. Founded in 1885, the University offers more than 120 undergraduate and graduate degree programs in science and technology, engineering, forestry, business and economics, health professions, humanities, mathematics, and social sciences. Our campus in Michigan's Upper Peninsula overlooks the Keweenaw Waterway and is just a few miles from Lake Superior.