New Museum to Provide Better Access to Collections, Increased Visibility to Michigan Tech
By Marcia Goodrich | Published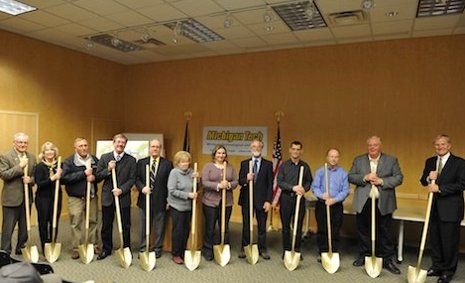 The new Seaman Mineral Museum will make a world-class collection more accessible to the public and bring more people to Michigan Technological University, President Glenn D. Mroz told the crowd assembled Oct. 27 for the groundbreaking of a new museum building.
Among its assets, the museum houses the finest collections of Keweenaw Copper and Lake Superior Iron District minerals and the most comprehensive collection of Michigan minerals. "This is a collection a century in the making," Mroz said, noting that it began under the direction of its first curator, Arthur Seaman, and quickly grew to 27,000 specimens. Located on Sharon Avenue next to the Advanced Technology Development Complex, it will provide easy access and free parking. Signage on US-41 will make it easy for visitors to find the facility.
The move will open up space on the fifth floor of the Electrical Energy Resources Center, he said, which will be used by the Departments of Computer Science and the Department of Electrical and Computer Engineering for a new center for computer systems research.
The museum still looks forward to eventually moving to a permanent home at the Quincy Mine and Hoist site in Hancock, Mroz said. However, since sufficient funds for that project are not available, and the academic departments urgently need the museum's current space, a new building near the ATDC is an excellent alternative. In addition, the new building can be re-purposed should the museum move again.
Mroz introduced State Rep. Mike Lahti, saying that his support helps build confidence in the future of the University. "Congratulations on this sensible move," Lahti said. He noted that Michigan and the nation are undergoing tough times, but that Michigan Tech graduates are among those helping the economy recover.
"We're looking forward to moving into the new facility," Museum Director Ted Bornhorst told the crowd. In addition to providing better access to the public, the new building also offers opportunities for expansion. "Or, we could move to Quincy," he said. In any event, a new museum will raise public awareness of the University.
He gave special thanks to Curator George Robinson and his wife, Susan, who have been at the museum seven days a week, "packing specimens, caring for their babies."
The 9,000-square-foot museum will be open to the public next summer. The $1.5 million project is being supported through alumni donations.
Michigan Technological University is a public research university, home to more than 7,000 students from 54 countries. Founded in 1885, the University offers more than 120 undergraduate and graduate degree programs in science and technology, engineering, forestry, business and economics, health professions, humanities, mathematics, and social sciences. Our campus in Michigan's Upper Peninsula overlooks the Keweenaw Waterway and is just a few miles from Lake Superior.