Michigan Tech's Naber Named SAE Fellow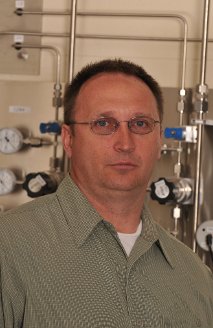 Jeff Naber has been named a fellow, SAE's highest grade of membership.
November 3, 2010—
Jeff Naber, an associate professor of mechanical engineering–engineering mechanics, has been named a fellow by the Society of Automotive Engineers.
Fellow is the SAE's highest grade of membership and recognizes important engineering, scientific and leadership achievements. Members must be nominated by another SAE member to be considered for the honor.
Naber was selected based on his outstanding accomplishments in the research and development of engine control systems and diagnostics, as well as his significant contributions to engineering education.
Naber led the development of an interdisciplinary course in advanced propulsion for hybrid electric vehicles. Aimed at displaced and working engineers, it has been offered on campus and in the Detroit area using distance-learning technologies.  This work led to a $3 million US Department of Energy grant in transportation electrification education, on which Naber is co-principal investigator. He received the 2010 SAE Forest R. McFarland Award and the 2010 Engineering Society of Detroit Distinguished Service Award.
His research interests are in internal combustion engines, specifically, after-treatment, advanced experimental techniques, signal processing technologies, theoretical models, and embedded controls to characterize engines' thermo-physical processes.
Naber is director of Michigan Tech's Advanced Power Systems Research Center and faculty advisor for the SAE Formula Car Enterprise. He is the Ronald E. and Elaine Starr Endowed Associate Professor in Energy Systems.
Michigan Technological University (www.mtu.edu) is a leading public research university developing new technologies and preparing students to create the future for a prosperous and sustainable world. Michigan Tech offers more than 120 undergraduate and graduate degree programs in engineering; forest resources; computing; technology; business; economics; natural, physical and environmental sciences; arts; humanities; and social sciences.