It's Much More Than a Walk in the Park
By Jennifer Donovan | Published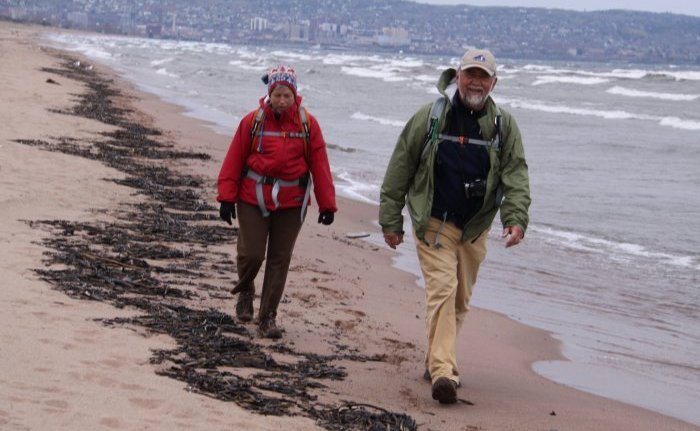 Mike Link and Kate Crowley are walking around Lake Superior this summer. All the way around. Some say that's 1,600 miles. Others estimate as high as 2,900. "But it's not just a walk," said Link at a program he and his wife presented at Michigan Tech Thursday evening. The Lake Superior Stewardship Initiative of the Western UP Center for Science, Mathematics and Environmental Education sponsored the program at Tech.
Their five-month hike is a "personal adventure," said the two retired Minnesota naturalists, who stopped in Houghton late last week, just over three weeks and 270 miles into their trek. Both in their 60s, Link and Crowley said that they hope to set a health/fitness/aging example for a generation of baby boomers.
Along the way, they are conducting research for three faculty members at Michigan Tech—Alex Mayer, Rolf Peterson and Bill Rose—as well as researchers from a number of other universities in the US and Canada. "We are their feet on the ground," said Link.
And they are working to raise public awareness of fresh water issues. Wherever they walk, the couple hands out surveys that Mayer—professor of civil and environmental engineering and director of Michigan Tech's Center for Water and Society—helped them design, to determine what people know and think about Lake Superior and its watershed. Researchers will analyze the results and make recommendations for more effective school and public education programs. The results will be posted on Link and Crowley's web site, Minnesota Sea Grant, the Natural Resources Research Institute of the University of Minnesota Duluth and other related sites.
The pair's Great Lake adventure began on April 29, when they set off from Duluth, Minn. Walking an average of 15 miles a day, they are collecting a variety of data as they go—keeping a record of plants, animals and signs of human disturbance that they see. They are watching for invasive species for a research project at Algoma University in Sault Ste. Marie, Canada.
"There has been surprisingly little trash," Link reported. "But there are an awful lot of ATV trails."
Rivers pose one of the walkers' major challenges. Many streams and rivers feed Lake Superior—an estimated 250 to 1,400, depending on who you ask. "Luckily, it's been a dry winter and spring, so we can walk through most of them," says Crowley. When they can't, they hitch a boat ride or drive around to resume their journey at the same place on the other side. "We have to cheat; we're walkers, not swimmers," quips Link.
Amanda Hakala, a family friend, drives the RV that helps them bridge the rivers. Every morning, they look at their route and agree on a place to meet. Sometimes Link and Crowley get there first. Usually Hakala parks and waits. And waits. Once the hikers ran into some unexpectedly rough country and showed up at the rendezvous site two hours late. "I was getting a little worried," Hakala admitted.
They usually sleep in the RV, relying on luke-warm ("or luke-cold") campground showers. One of the things Crowley misses most is hot baths.
The couple stick as close to the lake's shoreline as they can. They walk through sand, over rocks, in formidable pea gravel. "The gravel is the worst," Crowley claimed. "It's like a nightmare where you are trying to run and can't move."
When the shoreline is impossible, they follow trails nearby. When there are no trails, they cut their own way through. "We've bushwhacked some pretty tough territory," said Link.
Only when there is no way humanly possible to move through nature do they take to the roads. Even then, "we walk the equivalent miles we would have walked along the shoreline, because we're committed to doing the distance," Link pointed out.
He and Crowley both use walking poles. "They really help with balance going down and they take pressure off my bad knees going up," said Link.
They walked around the Keweenaw Peninsula this weekend and are now heading toward Marquette. From there, they will hike to Pictured Rocks National Seashore, Grand Marais and Sault Ste. Marie before crossing the bridge into Canada around June 26.
On the Canadian shore, they plan to take a five-day voyageur canoe ride, in a replica of the kind of canoe that French-Canadian explorers used. They also hope to connect with a number of First Nation tribes along what Link calls "the most remote, wild, difficult, spectacular part of the shore."
They're aiming to walk back into Duluth in mid-September, with a lot of photographs and memories, leaving a lot of people along the way a little more aware and concerned about the future of the greatest Great Lake.
"We're doing this for our three grandsons and our granddaughter," said Link. "When we look at them, we see the future. It's our obligation to leave them a healthy planet they can live on and enjoy. It's a much more important legacy than stocks and bonds and bank accounts."
Michigan Technological University is a public research university, home to more than 7,000 students from 54 countries. Founded in 1885, the University offers more than 120 undergraduate and graduate degree programs in science and technology, engineering, forestry, business and economics, health professions, humanities, mathematics, and social sciences. Our campus in Michigan's Upper Peninsula overlooks the Keweenaw Waterway and is just a few miles from Lake Superior.