Safer Helmet, Safer Head: Michigan Tech Team Takes its Award-winning Invention to San Francisco Inventors Expo
By Jennifer Donovan | Published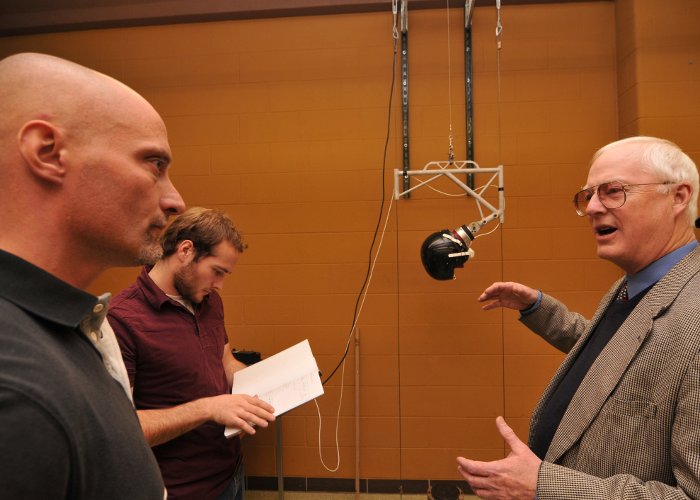 In the heat of a football game, a player is tackled and pounded to the ground. His head takes a mighty sideways whack. What happens next—a concussion or some other kind of traumatic brain injury—is rarely good.
Now a team of inventive engineering and business students from Michigan Technological University has designed a new and promising protective layer for sports and motorcycle helmets. They used the human head itself as a model for a building a helmet lining that mimics the body's own tricks for deflecting blows to the head. For example, the scalp—designed for redirecting oblique impacts, the skull—for absorbing normal impacts and the cerebral spinal fluid—for dampening the final impact on the brain.
The team was one of 16 chosen from more than 200 colleges and universities to introduce their invention at a national inventors conference in San Francisco. Michigan Tech undergraduates and graduate students demonstrated a prototype Enhanced BioMorphic (EBM) helmet layer at March Madness for the Mind, sponsored by the National Collegiate Inventors and Innovators Alliance (NCIIA) and Inventors Digest magazine at the Exploratorium science museum in San Francisco. They placed second in the nation for a video they produced about the innovative helmet lining.
In their prototype, they simulate the skull with a light composite sandwich shell, the scalp with thin elastic discs and the spinal fluid with a soft padding system. The protective layer can be inserted into a helmet in addition to the regular helmet liner. It protects the head inside the helmet against both oblique and normal impacts.
"Normal helmets are designed for direct, straight-on impact," explains Wayne Bell, a graduate student at Michigan Tech and helmet team member. "They aren't designed to protect against rotational acceleration, even though "normal" impacts in football often involve rotation."
In an online competition, viewers have already voted a 2-minute video about the helmet produced by Michigan Tech's team one of the top three videos of student inventions. The top three videos will be shown at a breakfast in San Francisco on Friday, March 26. A panel of independent reviewers and NCIIA and Inventors Digest staff will choose the winning video, and a People's Choice Award will be presented to the team that receives the most votes from conference attendees.
The Michigan Tech team and advisor Gopal Jayaraman, a professor of mechanical engineering-engineering mechanics at Michigan Tech, have been designing, building, testing and refining prototype helmets for several years. Their latest prototype has passed drop-test standards set by the National Operating Committee on Standards for Athletic Equipment (NOCSAE), preventing damage at 155 times the force of gravity (155 g's), the maximum load the brain can take without sustaining injury. They are also evaluating their invention using a mathematical model that enables them to optimize performance based on the properties of the materials they use.
Paul Nelson, associate professor of economics in Michigan Tech's School of Business and Economics, finance student Eric Tangko, and the University's Technology and Economic Development Office are working with the engineering students to develop a business and marketing plan and to patent and license the new helmet technology. They hope to license their invention to a commercial sports equipment manufacturer, paving the way for a full-fledged athletic equipment research center at Michigan Tech.
Sponsors of the helmet research and development are Michigan Tech's Departments of Mechanical Engineering-Engineering Mechanics, Athletics, and Exercise Science, Health and Physical Education; the Michigan Universities Commercialization Initiative; and NCIIA.
Michigan Technological University is a public research university, home to more than 7,000 students from 54 countries. Founded in 1885, the University offers more than 120 undergraduate and graduate degree programs in science and technology, engineering, forestry, business and economics, health professions, humanities, mathematics, and social sciences. Our campus in Michigan's Upper Peninsula overlooks the Keweenaw Waterway and is just a few miles from Lake Superior.