Michigan Tech Headed to Elite 8 Again after 84-68 Win over Drury!
By Dennis Walikainen | Published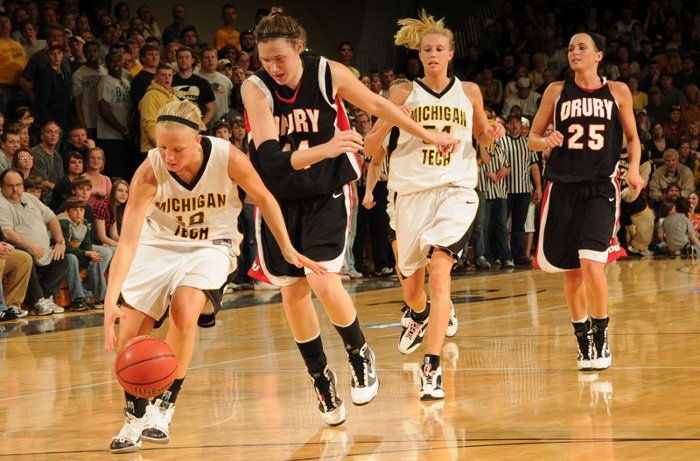 Senior Danae Danen poured in 30 points to go with 12 rebounds and five blocks to lead the Michigan Tech women's basketball team to an 84-68 NCAA Midwest Regional Championship victory over Drury and a return trip to the NCAA Elite 8. The homestanding Huskies blistered the nets at a 65-percent clip in front of 3,131 crazy fans—the largest crowd to witness a women's basketball game at the SDC Gym.
Tech, which claimed its school-record 31st win on the evening, will face Emporia State in a national quarterfinal game in St. Joseph, Mo., on Tuesday (Mar. 23) at 9:30 p.m. (ET).
"I had a feeling we would shoot better after having to grind out our first two wins in this tournament," said head coach John Barnes. "We were able to beat the ball pressure and get the ball inside. Danae made moves and scored, and that really calmed us down."
Danen was dominant from the start, recording two field goals and two blocked shots in the first three minutes. The score was tied at 17 midway through the half, and when Drury's leading scorer, Lindsay Ballweg, picked up her second foul, the Huskies took advantage. Even though Tech's leading scorer, Katie Wysocky, was also whistled for her second foul just a minute later, Tech proceeded to build up a double-digit lead.
Katie Zimmerman buried a pair of 3-pointers during the run, and Danen added four of her first-half 16 points in the final minute to help the Huskies enter halftime with a 42-32 advantage.
Drury made things interesting early in the second half. The Panthers' halfcourt trap defense forced three turnovers in the first four minutes, allowing the visitors to climb back within 44-41.
It was a game of runs from there on out. Tech used a 13-2 spurt helped by a Wysocky three-point play and a Zimmerman 3-pointer to build a 57-43 advantage with 11:30 to go. Drury came back with two straight 3-point plays and a put-back over the next 90 seconds to quiet the crowd and make the score 57-51.
The Panthers would come as close as 63-59 before Danen reversed the momentum with a post move and score. Tara Ferris buried her only 3-point attempt of the day on the next trip down, and the Huskies compiled a 15-0 run to the delight of the home fans. Wysocky's free throws closed out the run with the score at 78-59 with 4:28 to play.
"What an atmosphere, and what a great team Drury is," said Barnes. "Every time I thought we had them in a hole, they came back.
"We went zone and I think that got them out of their rhythm just enough down the stretch for us to pull away."
Danen swished another jumper for her 29th and 30th points of the day with 2:09 left, and Tech bled out the clock for its second straight Midwest Regional Championship.
"They were leaving me one-on-one in the post, and my teammates did a great job of getting me the ball," said Danen, who was named the tournament's most outstanding player. "I'm just glad we got the win in our last home game."
Wysocky and Stream were also named to the all-tournament team. Wysocky posted 19 points, four rebounds and four assists. Stream dished out eight assists to go with six points.
Zimmerman broke out of a slump of sorts with a 5-of-7 performance from 3-point range and 18 points.
DU had four players in double figures led by Ballweg and Katie Pritchard who each scored 16 and were named all-tournament. The two national leaders in 3-point percentage combined to go 3-of-10 from behind the arc with the Huskies defense focused on slowing them down.
Overall, Tech's defense limited Drury, which entered the game leading the nation in both field goal percentage and 3-point percentage, to 43 percent from the field and 4-of-15 (27 percent) from behind the arc.
The Huskies, meanwhile, were over 60 percent in both halves for a 65 percent mark. Tech also made 7-of-14 from three and 17-of-21 free throws.
Notes: Tech's previous record crowd for women's basketball was 2,852 for a NCAA Regional Semifinal vs. Northern Michigan in 1995 … The Huskies' 31 wins surpassed the 1992-93 squad, which tallied a 30-3 record … Tech set school postseason records for team field goal percentage, individual scoring (Danen 30), individual field goals (Danen 12), individual 3-point field goals (Zimmerman 5) and individual blocked shots (Danen 5) … Tech averaged 2,552 fans for its three games in the NCAA Midwest Regional … The Huskies' NCAA Midwest Regional Championship a year ago also came on March 16.
Michigan Technological University is a public research university, home to more than 7,000 students from 60 countries. Founded in 1885, the University offers more than 120 undergraduate and graduate degree programs in science and technology, engineering, forestry, business and economics, health professions, humanities, mathematics, and social sciences. Our campus in Michigan's Upper Peninsula overlooks the Keweenaw Waterway and is just a few miles from Lake Superior.