Jeff Naber Receives SAE McFarland Award
Last Modified 10:47 AM, June 18, 2010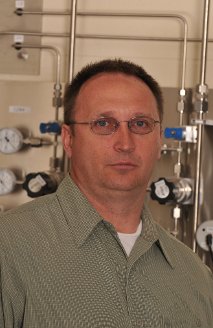 Jeff Naber receives SAE McFarland Award.
June 17, 2010—
SAE International (Society of Automotive Engineers) has named Jeffrey D. Naber, associate professor of mechanical engineering, winner of the 2010 Forest R. McFarland Award. Naber is director of the Advanced Power Systems Research Center at Michigan Tech.
The McFarland award recognizes individuals for "outstanding contributions to the SAE Engineering Meetings Board and the development and dissemination of information through technical meetings, conferences and professional development programs, or for contributions in facilitating or enhancing the interchange of technical information."
Naber won the award for his contributions to the planning and development of technical meetings and conferences. He has co-organized and chaired sessions in new engine technologies for 15 years and is a former chair of SAE's Lubricants and Powertrain Systems Committee. He previously received the SAE Horning award for work in modeling diesel sprays and the SAE Teetor Award for Engineering Educators.
Michigan Technological University (www.mtu.edu) is a leading public research university developing new technologies and preparing students to create the future for a prosperous and sustainable world. Michigan Tech offers more than 120 undergraduate and graduate degree programs in engineering; forest resources; computing; technology; business; economics; natural, physical and environmental sciences; arts; humanities; and social sciences.