Gulf Oil Spill Experts from Michigan Tech
By Jennifer Donovan | Published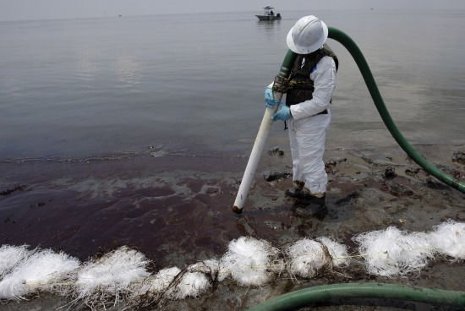 The recent oil spill in the Gulf of Mexico off the coast of Louisiana is a burgeoning ecological and engineering disaster, There are so many aspects to the crisis that it can be hard to know where to turn for an informed comment.
Engineers, scientists and other experts from Michigan Technological University have research and practical expertise that they have offered to share with the news media. They include
Gerard Caneba
A professor of chemical engineering at Michigan Tech, Gerard Caneba's research focuses on a novel mechanism to efficiently produce polymer surfactants that can trap and recover oil. He is forming an interdisciplinary task force of Michigan Tech scientists and collaborators in the Gulf Coast states affected by the oil spill. He is applying a foaming surfactant technology he discovered at Michigan Tech to control surface and underwater oil spills, and his research group is working on environmentally benign alternative oil-spill dispersants. An entire chapter of a book by Caneba called Free-Radical Retrograde Precipitation Polymerization (FRRPP): Novel Concept, Processes, Materials and Energy Aspects, just published by Springer-Verlag, addresses oil recovery using the biodegrable polymer surfactant he developed.
Zeyad Ahmed
Zeyad Ahmed is a PhD student in civil and environmental engineering at Michigan Tech. A native of Iraq, his consulting firm designed some of the world's largest crude oil-water separators to separate crude oil from the waters that flow into the Tigris River in Iraq. They use gravity oil separators to separate mixtures of oil and water. These are long basins designed to give the flow of oil-water mix enough time to separate by gravity. Then water can be discharged via flow under the separation baffle, and the oil overflows to another collection tank. Ships' tanks etc. can be modified to serve this purpose. They are shaped like the big long oil-water separators, but they are mobile and can cruise in seas and pump oil-water in, discharge only water and store oil until it can be pumped to another ship. The process requires some modifications to the existing ships' tanks, but after the job is done, the baffles could be taken out and the ships can resume their normal functions. In this way, oil plumes can be captured before they reach coast. It would be worth it to have few of these floating separators standing by to capture oil from all types of accidents or disaster.
Judith Perlinger
An associate professor of civil and environmental engineering at Michigan Tech, Judith Perlinger's expertise is in the transport and transformation of organic pollutants such as oil in water and air, and between the two. Many people do not know that organic pollutants in water can be a source of contamination to the air, through air-water exchange of chemicals. Perlinger could speak about the oil in the Gulf as a source of contamination to the air. She is preparing a proposal for NSF's Rapid Response Program to measure air-water exchange fluxes of oil components.
Charles Knobloch
A Michigan Tech alumnus, geoscientist and patent attorney, Charles Knobloch serves on Michigan Tech's College of Engineering Advisory Board. Arnold & Knobloch, his intellectual property firm in Houston, Texas, has seen a dramatic increase in new invention proposals to deal with every aspect of the oil spill, including environmental clean-up, environmental protection and ways to stop the flow of oil. He says he has heard from people ranging from retired oil company presidents to a Congressman and all kinds of garage inventors. Knobloch is a member of the Drilling Engineers Association and previously served on the Steering Committee for the Society of Petroleum Engineers Advanced Technology Workshop for Subsea Facilities Management.
Hugh Gorman
An associate professor of environmental policy and history at Michigan Tech, Hugh Gorman is author of a book title Redefining Efficiency: Pollution Concerns, Regulatory Mechanisms and Technological Change in the US Petroleum Industry. It examines the history of how the oil industry responded to pollution concerns over the course of the 20th century, including the extraction, transportation and refining of oil. He can speak to historical questions involving past efforts in the oil industry to prevent spills and control pollution.
Michigan Technological University is a public research university, home to more than 7,000 students from 54 countries. Founded in 1885, the University offers more than 120 undergraduate and graduate degree programs in science and technology, engineering, forestry, business and economics, health professions, humanities, mathematics, and social sciences. Our campus in Michigan's Upper Peninsula overlooks the Keweenaw Waterway and is just a few miles from Lake Superior.