Eyewitness to Disasters: Graduate Student Reports from Guatemala
By Jennifer Donovan | Published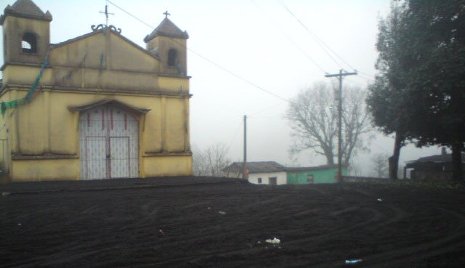 Guatemala has been the scene of two consecutive disasters: the eruption of the Pacaya Volcano followed by tropical storm Agatha. Brianna Hetland, a Michigan Tech Peace Corps Master's International student, is stationed in Guatemala; her account of the events, first via email, then by phone, follows.
Sunday, May 30
I just wanted to let you all know that I am safe and to send you a quick run-down of what is going on down here. Peace Corps pulled me out of San Vicente yesterday so I am now stuck in Antigua . . . It is raining pretty heavily here, and I think it will be for the next few days, . . . I am not sure how it is affecting the aldeas [villages] or the rescue efforts for the people that are still in them. I am in constant contact with CONRED [national coordinating agency for disaster reduction], and I have heard that everything is more or less tranquilo as far as the volcano is concerned. They are now trying to coordinate food and water for the people that have been evacuated.
The eruption
I stepped out of my front door because I heard a loud rumbling . . . when it lasted for over 30 seconds I realized it was something else, and there was lava spouting out of the crater to an altitude of about 500 meters. It was raining and cloudy and dark, so I wasn't able to see anything except for the lava that was coming out of the crater (along with the normal daily flows on the southern flank). The eruption lasted for about 15 minutes or so. Rocks began to fall in San Vicente after only a few minutes . . . I went to the muni building and stayed there while the rocks were falling in town (I collected a few of the largest ones I could find, about fist-sized, but mostly they were pebble sized) until it was safe to leave . . . I went with CONRED personnel to San Francisco de Sales to help with the evacuation efforts . . . there were about eight inches of rocks blanketing the ground that were mainly marble-sized. We evacuated as many people as we could with trucks . . . While we were there, ash began to fall and continued to do so until I left.
Friday
Due to the heavy cloud cover, I was not able to see the ash cloud for very long, but the one glimpse I did get was of a large, very brown cloud spreading to the north around 1:30 p.m.
Damages
In the villages, the lamina roofs were destroyed for the most part either having collapsed or been run through by the rocks. Most of the holes in the roofs were the size of bowling balls. I heard that six houses burned, but I don't know if this is true . . . Calderas and San Francisco received most of the ash fall. I heard ash fell in Coban as well, specifically I spoke with a fellow volunteer in Samac, Alta Verapaz and he said his whole aldea was blanketed with ash.
I know that the main efforts right now are to keep the people in San Vicente safe and fed and with water. The president [of Guatemala] came yesterday and he declared a mandatory evacuation . . . I have heard there are now two lava flows, one to the south/southwest and one on the other side of the volcano . . . The whole country is on stand-fast right now for the rain, and Gustavo told me there are problems with lahars [lava flows] at Fuego and Santiagito.
Since then:

Hetland provided an update, including this email, translated from Spanish, from a friend in Pacaya:
Friends, it is sad to see how nature strikes us as humans, and the only thing we can do is pray for all those people who have lost their lives and their belongings.
"This is the situation of my town of San Vicente Pacaya, specifically the villages of El Cedro, San Francisco, El Bejucal and Boilers. The lagoon is about to disappear. After tons of earth were launched from the Pacaya Volcano, the storm swept across the sand into the village, and the lagoon is almost buried.

Sincerely,
Elder Morales
Pacaya.

Hetland says:
"I'm back home and safe. I was evacuated to Antigua, and there were a few more eruptions, but the other bad event, of course was tropical storm Agatha," which reportedly has caused at least 150 deaths in Guatemala.
"One of the shelters in Pacaya, with 800-plus people, had to be evacuated because of the water, and there have been other evacuations, too."
It has been cloudy since her return, so she can't view the volcano, she says, but she has heard reports that it is splitting in two.
Pacaya has been erupting steadily since the early 1960s, Hetland says, and major eruptions have occurred in 1989 and 2000.
It's been a rough introduction to her Peace Corps Master's International duties.
"I was really just trying to integrate into the community, which routinely takes from three to nine months," Hetland says. "I was working on my Spanish, getting my face known so I wasn't just some gringo who has data sheets."
She had just done an environmental education conference in town and planned another on hazard preparedness.
"Then Pacaya started erupting that Wednesday, sending an ash column some 250 meters in the air, and everyone started preparing for something big," she says.
Now, as a result of the volcano and the storm, there have been many structures that have collapsed, and the streets are full of water and mud.
"And it's like the mountain has just slumped down 10 feet," Hetland says. "There is no running water, and, although the weekly water trucks can still get to the village, there is no water for bathing, dishes, clothing. People are saving rainwater."
The local tourist industry—some 300 to 400 a day would come to view the volcano—is gone since the nearby San Francisco visitor center was destroyed. And, although the volcano has "settled down to normal level of activity and not erupting," it is still impressive.
"The south and north lava flows are 2.5 kilometers [1.55 miles] long," she says.
Michigan Technological University is a public research university, home to more than 7,000 students from 54 countries. Founded in 1885, the University offers more than 120 undergraduate and graduate degree programs in science and technology, engineering, forestry, business and economics, health professions, humanities, mathematics, and social sciences. Our campus in Michigan's Upper Peninsula overlooks the Keweenaw Waterway and is just a few miles from Lake Superior.