Bear with Us: Teddy Bears Can Ease Children's Trauma
By Jennifer Donovan | Published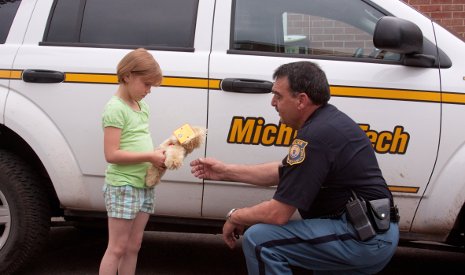 Teddy bears bring joy and comfort to children, especially when they experience trauma.
For this reason, the Department of Public Safety and Police Services at Michigan Technological University is starting a program to give teddy bears to children who are involved in a house fire, a car crash or similar event. Says Deputy Chief Brian Cadwell, "Police, fire and rescue personnel have found that teddy bears provide welcome, on-site and in-transit comfort to children involved in these situations."
Something cuddly, it seems, can be calming, says Daniel Bennett, director of the department. "Having a teddy bear to hold on to and hug can really help to bring the child's stress level down in traumatic situations."
For many years around the nation, children have received these teddy bears. "This is a worthwhile effort," says Bennett.
Tech is starting out with one teddy bear in each of the two patrol cars--wrapped up nicely and ready to become some youngster's friend. Another six are in reserve. "It is still too early to tell how long they will last," says Cadwell. "We will be very happy if we never have a situation where we give a bear to a child. But if the situation arises, we will be properly equipped."
For more information, contact Cadwell at 487-2216 or bjcadwel@mtu.edu .
Michigan Technological University is a public research university, home to more than 7,000 students from 60 countries. Founded in 1885, the University offers more than 120 undergraduate and graduate degree programs in science and technology, engineering, forestry, business and economics, health professions, humanities, mathematics, and social sciences. Our campus in Michigan's Upper Peninsula overlooks the Keweenaw Waterway and is just a few miles from Lake Superior.