Where the Buoys Will Be
By Jennifer Donovan | Published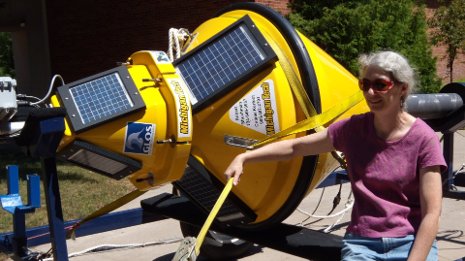 The first of three coastal monitoring buoys travelled from Ann Arbor to Houghton late last week. After spending an afternoon hunkered down on a walkway in front of the Dow Environmental Sciences and Engineering Building, the new buoy was towed to its data-collecting location two miles northeast of the North Entry of the Portage Canal. The buoys are being deployed by Michigan Tech to collect data on weather, surface and subsurface water temperature, wind speed and direction, wave height and air temperature in the Great Lakes. The information will enhance Great Lakes weather forecasting and help scientists study global climate change.
Painted in Tech black and gold, the buoy looks like a sized-down spacecraft. It contains remote sensing technologies developed by the Michigan Tech Research Institute (MTRI) in Ann Arbor and was designed by Guy Meadows of the University of Michigan (UM). Robert Shuchman, co-director of MTRI, and W. Charles Kerfoot. professor of biological sciences, are principal investigators on the buoy project.
The buoy is part of the Great Lakes Observing System (GLOS), a National Oceanic and Atmospheric Administration (NOAA) project involving six universities, including Michigan Tech. Other universities participating in GLOS are UM, University of Minnesota-Duluth, University of Wisconsin-Milwaukee, Ohio State University and the State University of New York.
The GLOS universities recently received a $1.4 million one-year grant from the Great Lakes National Program Office of the Environmental Protection Agency. Michigan Tech used its share of the funds to develop and deploy the buoys.
The coastal monitoring program will be a counterpart to the deep-water buoy program that now collects data in deep waters far from the shoreline. The data collected by the coastal buoys will be transmitted to Tech and to NOAA's Great Lakes Environmental Research Lab. It will become part of the National Data Buoy Center forecasting system, accessible by anyone via the Internet.
When a planned $25 million Great Lakes Research Center is built at Michigan Tech, the GLOS project is an example of the kind of interdisciplinary and collaborative research that will be conducted there.
Michigan Technological University is a public research university, home to more than 7,000 students from 54 countries. Founded in 1885, the University offers more than 120 undergraduate and graduate degree programs in science and technology, engineering, forestry, business and economics, health professions, humanities, mathematics, and social sciences. Our campus in Michigan's Upper Peninsula overlooks the Keweenaw Waterway and is just a few miles from Lake Superior.