Summer Studies, Global Dreams
By Dennis Walikainen | Published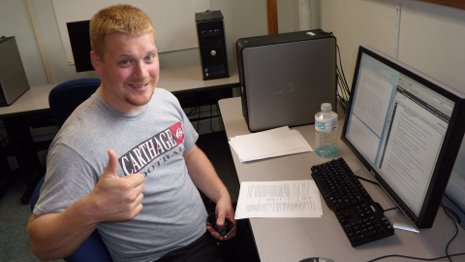 A muggy, overcast afternoon found a handful of students hard at summer session studies in the air-conditioned labs of the Academic Office Building. Dutiful (and hopeful), they were hitting the books and computers in pursuit of their own piece of the global marketplace.
Anthony Delebreau, a Master of Business Administration (MBA) student, was working on his global innovation networks homework from Karol Pelc's School of Business and Economics (SBE) online class. He was reviewing the work between a Japanese electronic company and researchers at Princeton.
"I'm beginning with broad questions, then eventually deciding what they can do better, what needs to be done," he said.
Delebreau, from Kewaunee, Wisconsin, will finish in December. He wants to use his 11 years of Japanese language instruction to help Japanese and American businesses communicate. To keep up to date on the language, when he's not walking dogs for the Humane Society, he watches Japanese professional wrestling on YouTube!
"I keep my Japanese dictionary near me," he says. "And I hit pause and look up the words that I don't know."
Nearby, Tao Guo was studying for the same class. He hopes to finish his MBA next May. He was looking at how Microsoft interacts with Asian vendors.
"I want to see how Microsoft coordinates with the vendors and how they use other resources like universities and other institutions," he says.
Guo, who is from northern China, majored in English and finance at China Northwest University. He has a Chinese-English dictionary website on his computer, in case he gets hung up on a word. Guo would like to find a job in the US (he's had four years of experience in China) when his studies are done.
In the undergraduate lab across the hall, third-year accounting major Alyson Dreher, from Iron Mountain, was studying for her game theory class with SBE Professor Tom Merz and a major American authors course taught by Humanities Chair Ron Strickland.
Dreher is hoping to finish her bachelor's degree by the end of summer and begin graduate school--"a master's in taxation"--at Grand Valley State University. She also plans to study to become a Certified Public Accountant (CPA). She expects to work downstate when all her schooling is done.
Liqi Fu was also getting some game theory homework out of the way, along with assignments for sales management, a class she is taking with Bob Mark, SBE professor of practice.
This summer, Fu kills free time "swimming, hiking, and shopping." The finance major was hoping to graduate next May, before returning to southwest China. There, she will help out with her family real estate business.
I wished her luck before heading back into the humid air, but she and the other cooled students didn't need much luck. They possessed pluck.
Michigan Technological University is a public research university, home to more than 7,000 students from 60 countries. Founded in 1885, the University offers more than 120 undergraduate and graduate degree programs in science and technology, engineering, forestry, business and economics, health professions, humanities, mathematics, and social sciences. Our campus in Michigan's Upper Peninsula overlooks the Keweenaw Waterway and is just a few miles from Lake Superior.