Hands-On Education Knows No Limits
By Jennifer Donovan | Published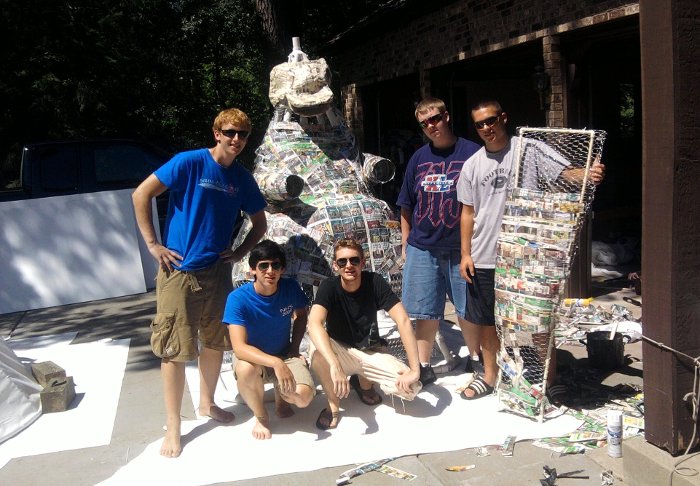 The platypus is rare among mammals, laying eggs rather than bearing live offspring. Even rarer is a 200-pound platypus egg that hatches into a helicopter as it careens off a 30-foot cliff into the water.
But engineering is, after all, an exercise in creative problem solving, and Michigan Tech is all about hands-on education. Maybe that's why five Michigan Technological University engineering students spent the summer designing and building an enormous platypus egg that would hatch into a helicopter and—hopefully--fly.
At least they hoped it would, because one of them tried to pilot the contraption over the Mississippi River at Harriet Island Regional Park near downtown St. Paul, Minn., on July 24.
The Michigan Tech students' team, the Platypi Pushers, built the human-powered flying machine to compete in a Red Bull Flugtag competition. Flugtag means "flying day" in German, and Red Bull—the well-known energy drink—has been sponsoring flugtag competitions worldwide for nearly 20 years.
Flugtag flying machines are handmade and human-powered. They tend to be bulky contrivances on zany themes, gizmos that don't look likely to fly.
Nikoli Wiens, an incoming second-year software engineering major from Duluth, Minn., and classmate Peter Garfield, who hails from North Oaks, Minn., heard about the flugtag event being planned for the Twin Cities. They convinced three other incoming second-year engineering students to conspire to build an entry to represent Michigan Tech.
They thought about what looked least likely to fly and settled on the platypus "because it is one of the weirdest animals out there," Wiens explains.
The competition just to get into the competition was tough—37 teams were chosen out of more than 500 that applied. The students' sketch of a flying platypus bursting out of a gigantic egg probably helped.
Once they'd made the cut, the team spent the summer at Garfield's house, working on their flugtag machine, turning PVC pipe, chicken wire, paper maché and bed sheets into a 12-foot tall platypus egg on wheels with a working helicopter tucked inside.
The "flight crew," consisting of Garfield and classmates Pat Whitehead, Tim Richmond and Matt Wong, played the roles of a group of hillbillies arguing about what to do with a giant egg they have found on their farm. "When the egg hatches to reveal a fledgling platypus (aka helicopter), they do what anyone would," says Wiens. They push the hideous thing into the nearest body of water."
As the flight crew pushed Wiens and his rotor-topped platypus off a 30-foot ledge overlooking the Mississippi, the platypus's wings--damaged in a storm the previous night--fell off and the fledgling engineers watched their creation plunge into the river.
Another team broke the world Flugtag record, soaring 205 feet before it hit the water.
But in flugtag, distance is not the judges' only criterion. Creativity and showmanship play a big role too. The Platypi Pushers had no problem getting points for that.
Michigan Technological University is a public research university, home to more than 7,000 students from 54 countries. Founded in 1885, the University offers more than 120 undergraduate and graduate degree programs in science and technology, engineering, forestry, business and economics, health professions, humanities, mathematics, and social sciences. Our campus in Michigan's Upper Peninsula overlooks the Keweenaw Waterway and is just a few miles from Lake Superior.