Alumni Reunion to Feature Hockey, Local History, Outdoor Adventure
By Marcia Goodrich | Published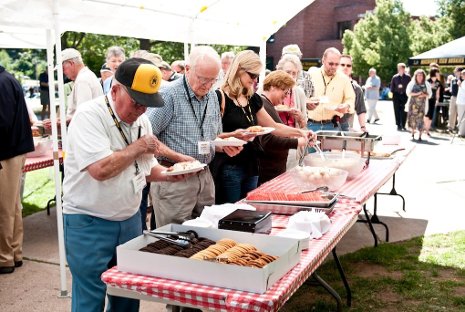 Local history buffs can take advantage of two Tech Talks and tour an historic mine site at Michigan Technological University's 2010 Alumni Reunion, set for Aug. 5-7. If history isn't your thing, try out the canoe trips, waterfall hikes or rides aboard the Research Vessel Agassiz. There's even a summer special for sports fans: an alumni hockey game.
In addition to hockey, other special alumni group reunions being planned are Air Force ROTC, Chemistry, several engineering departments, Alpha Delta Alpha, Delta Zeta, Lambda Chi Alpha, Theta Tau, Sigma Phi Epsilon, Sigma Rho Lawn Party 2010, the 10th anniversary celebration of the Pavement Design, Construction and Materials Enterprise and Thompson Scholars Program, and more.
Many events are free; you may be asked to preregister to allow organizers to better plan for refreshments. Others require tickets that must be purchased in advance. For more information or to order tickets, call Alumni Relations at 906-487-2400 or visit the Reunion website. Updated information on reunion events will also be available at the Alumni Association's reunion registration desk in the Memorial Union Commons.
Thursday, Aug. 5
Everyone is invited to the Welcome Breakfast Buffet, which begins at 8:30 a.m. The cost is $12; be sure to preregister. A free campus tour follows at 10 a.m.
Groundbreaking for the Great Lakes Research Center begins at 9 a.m. The center will be located on the Michigan Tech waterfront, near the Central Energy Plant.
The Seaman Mineral Museum and its gift shop will be open from 9 a.m. to 4 p.m.
Room 139 in Fisher Hall will be the venue for two free Tech Talks on local history. At 10 a.m., Kris Mattila, an associate professor of civil and environmental engineering, will give a presentation marking the 50th anniversary of a local landmark: "A Treasure from the Trash: A Slide Show on the Construction of the Portage Lake Bridge."
At 11 a.m., history professor Larry Lankton will give a talk based on his new book, "Hollowed Ground: Copper Mining and Community Building on Lake Superior, 1840s-1990s."
Everyone is invited to an open house at the Keweenaw Research Center, set for 2 p.m. Please preregister.
The Pasty Picnic begins at 4 p.m. on the campus green between the Electrical Energy Resources Center and the Chemical Sciences and Engineering Building (rain site: Memorial Union). Tickets, sold in advance, are $14 for adults, $7 for children.
The Keweenaw Chapter of Alumni and Friends will host a social for the Tech community at the Keweenaw Brewing Company starting at 5 p.m. in downtown Houghton. If you plan to attend, please preregister.
Friday, Aug. 6
The All-Class Alumni Breakfast is at 8:30 a.m. in the Memorial Union. Tickets are $12 in advance. Following at 10 a.m. will be the Golden M pinning ceremony for the Class of 1960 and earlier; class year gatherings are also scheduled for 10 a.m in the Memorial Union.
The University Campus Picnic starts at 11 a.m. on the campus green. Pay at the picnic.
From 1 to 4 p.m., the Research Vessel Agassiz will carry passengers on tours, every hour on the hour, leaving from the Houghton County Marina in Hancock. Space is limited; be sure to preregister.
Campus Tours and open houses begin at 1:30 p.m. The Departments of Chemistry, Chemical Engineering, Geological and Mining Engineering and Sciences, Mathematical Sciences, Mechanical Engineering-Engineering Mechanics, International Programs and Services, Public Safety and Police Services, Pavement Design Construction and Materials Enterprise and the Thompson Scholars Program and the new "bubble" greenhouse will be welcoming visitors.
Residence hall tours begin at 1:30 p.m.; no need to preregister. A reception at the new Residential Apartment Building begins at 3 p.m. Everyone is invited; if you plan to attend, please preregister for counting purposes.
A guided campus tour hosted by the Admissions Office leaves at 2 p.m. from the ground floor of the Administration Building.
The Alumni Reunion Awards Dinner begins with a social at 5:30 p.m. followed by dinner at 6:30 p.m. Tickets are $30, $15 for children ages 6–12, free for children age 5 and under. Be sure to preregister.
Saturday, Aug. 7
The final day of reunion is devoted to enjoying the Keweenaw. It begins with a tour of the Cliff Mine site near Phoenix, led by researchers from Tech's industrial archaeology program. Vans leave at 8:30 a.m. The cost is $5; please preregister.
Michigan Tech's Outdoor Adventure Program is sponsoring half a dozen excursions; you'll need to preregister. You can canoe the Sturgeon River for $25; all necessary gear and transportation are provided. Tours depart from the Memorial Union at 9 a.m. and 1 p.m.
If you'd rather walk, two Keweenaw waterfall tours are planned. The 9 a.m. tour is $20 and includes snacks. The 1 p.m. tour is $30 and includes a cookout. Transportation to the falls is provided.
If you can't decide, do both. Two canoe/waterfall packages are available and run from 9 a.m. to 7 p.m. One includes a cookout; tickets are $45. The other offers snacks; cost is $40.
Prefer the links? The Michigan Tech MBA Association and the School of Business and Economics are hosting a golf scramble beginning at noon. The cost is $80 for a two-person team. For more information, call 906-487-2668 or email mbaagolfoutings@gmail.com.
Reunion 2010 wraps up with the free Hockey Alumni Game, set for 6 p.m. in the MacInnes Student Ice Arena. Don't miss this opportunity to see some of Tech's great players back on the ice.
Michigan Technological University is a public research university, home to more than 7,000 students from 54 countries. Founded in 1885, the University offers more than 120 undergraduate and graduate degree programs in science and technology, engineering, forestry, business and economics, health professions, humanities, mathematics, and social sciences. Our campus in Michigan's Upper Peninsula overlooks the Keweenaw Waterway and is just a few miles from Lake Superior.