Terry McNinch, Tim Colling Win Transportation Research Board Award
By Jennifer Donovan | Published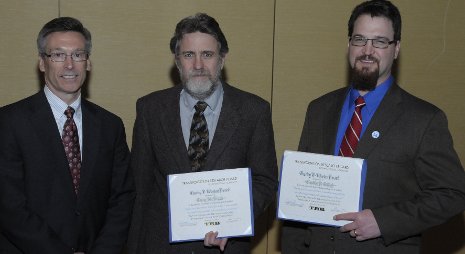 Terry McNinch, director of Michigan's Local Technical Assistance Program (LTAP), and Tim Colling, assistant director of LTAP, have received the Charley V. Wootan Award, presented annually by the Transportation Research Board (TRB) of the National Research Council (NRC) for the outstanding paper in the field of policy and organization. The award was presented at the Thomas B. Deen Distinguished Lecture and TRB Awards Ceremony at the Transportation Research Board's annual meeting, January 10-14, 2010, in Washington, DC. Michigan LTAP is based at Michigan Technological University.
The Charley V. Wootan Award was established to honor the director of the Texas Transportation Institute at Texas A&M University. Active in TRB for many years, he served as chairman of the TRB Executive Committee and held the positions of group and council chair in the Technical Activities Division.
McNinch and Colling's prizewinning paper is "Making Asset Management Work: Innovative Components for Successful Implementation by Local Agencies in Michigan."
Sue McNeil, chair of the TRB Asset Management Committee and a professor at the University of Delaware, applauded the selection. "I am delighted that Terry and Tim are being recognized for their work promoting asset management, particularly for local agencies. In addition to their award winning paper, they have conducted workshops, worked one-on-one with agencies, spoken at conferences and meetings, and provided technical support to local agencies. This particular paper not only documents the experience in Michigan, but identifies the benefits experienced by 'early adopters.' It is of value to both researchers and practitioners. I look forward to seeing many more papers from Terry and Tim."
Over the past three years working with its partners, Michigan LTAP has hosted 120 training events related to applying the concepts of asset management to transportation infrastructure. More than 4,000 people have participated, 70 percent of them from county road commissions, cities and villages.
McNinch said that although he and Colling will receive the award, "It's really about the people who help make it all happen. Our entire staff works hard making Michigan LTAP trainings top notch and RoadSoft as good as it is," he noted. "They all deserve a lot of credit."
Colling added: "Recognition also goes out to the county road commissions and cities that are grabbing hold of these concepts and making good things happen. Adopting these transportation asset management is quite a big leap for many road commissions and cities. Its a completely different way of looking at the road business, which is sometimes a hard sell. These agencies deserve a lot of credit for what they have done too."
Cited in the award-winning paper as a local agency case example is the City of Manistee, Michigan (population 6,600). City managers recognized that the 49 miles of city streets were in fair condition but would soon deteriorate to poor if something wasn't done. The managers attended an asset management workshop in fall 2007. In January 2008, the city's elected officials attending training. In April, pavement condition data were collected using the RoadSoft® Laptop Data Collector (LDC). In June, the managers were using RoadSoft's asset management analysis features to build pavement maintenance strategies and optimized budgets. By August, they were able to present to the city council an efficient and effective maintenance strategy for preservation of city streets.
RoadSoft is an integrated roadway asset management system designed to address the specific needs of counties, cities and villages. A geographic information system interface helps agencies manage their roads, signs, culverts, driveways, bridges, guardrails, pavement markings sidewalks, traffic counts and traffic crashes. It is currently in use by more than 370 local agencies in Michigan, other local agencies throughout the U.S., and most recently in a World Bank funded project by a state Department of Transportation in Brazil. Developed over the past 15 years by the staff of the Technology Development Group of the Michigan Tech Transportation Institute, RoadSoft is now available worldwide under a non-profit license.
As shown in the award-winning paper, successful implementation of transportation asset management by counties, cities and villages is critical when transportation resources are limited and dwindling every month—the current situation in Michigan. Carmine Palombo, director of transportation programs at the Southeast Michigan Council of Governments, and chair of the Michigan Transportation Asset Management Council (TAMC), congratulated McNinch and Colling for their efforts in promoting asset management. "The Michigan Asset Management Council congratulates Terry and Tim on being selected by the TRB as recipients of this year's Wootan award," Palombo said. "It's just another example of their efforts to promote the gospel of asset management throughout Michigan. It is through their efforts and the work of other dedicated professionals throughout the state that the concepts of asset management are getting into the hands of local agencies, thereby improving roadway management in the face of scarce resources. We look forward to continuing our partnership with them."
Steven A. Warren, deputy director of the Kent County Road Commissions and member of the TAMC, also recognized the pair's outstanding efforts. "Because of their sincere appreciation and understanding of the challenges local transportation agencies face, Terry and Tim are able to provide valuable assistance to these agencies as they strive to implement asset management," Warren said.
Michigan Technological University is a public research university, home to more than 7,000 students from 54 countries. Founded in 1885, the University offers more than 120 undergraduate and graduate degree programs in science and technology, engineering, forestry, business and economics, health professions, humanities, mathematics, and social sciences. Our campus in Michigan's Upper Peninsula overlooks the Keweenaw Waterway and is just a few miles from Lake Superior.