Start to Finnish: An Exchange Student's Dispatch
By Jennifer Donovan | Published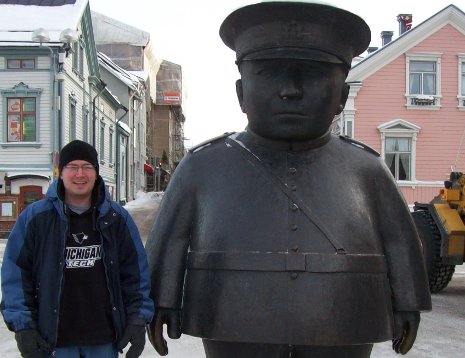 Eric Neff, a chemical engineering major at Michigan Tech, is spending this semester as an exchange student at the University of Oulu in Finland. Shortly after he arrived, he sent this report to Greta Gustafson, coordinator of Tech's Study Abroad Programs.
Moi! (Hi, in Finnish) When your phone wakes you up in the morning, you hit "Off." When my phone wakes me up I stare at it before remembering to press ''Pois."
That's the first reminder I get that I'm not in Houghton any more, much less the US. This semester I'm studying abroad at the University of Oulu in Oulu, Finland. I've only been here for a few days, but I've already encountered a lot of differences from life in Houghton. Adjusting to a new environment, culture, winter and language has been a full time job.
"In Englanti?" (In English?) It seems like I am saying that all the time. One of the biggest challenges is the language barrier. Finnish and Swedish dominate, with English rarely appearing beyond product names, if at all. Until I improve my Finnish, getting around or buying specific items is challenging at best and occasionally impossible. Not being able to communicate is frustrating, especially when food is at stake - it took another exchange student and me five minutes to buy two slices of pizza at a local cafe. Thankfully, enough of the locals speak English—and take pity on me and my fellow exchange students—that we have been able to survive. As a native speaker of English I at least have an easier time trying to communicate with locals and the other exchange students and have played the part of 'translator' several times. Every day it gets easier though, saying "kiitos" instead of "thank you" or recognizing new words at the store.
Communicating is only the first step; getting adjusted to life in Oulu has its ups and downs. Kummi means "godparent", and kummi students are Finnish students similar to first-year students' Orientation Team Leaders at Michigan Tech, hired by the University to support exchange students while we acclimate. Our kummis help us find our apartments and show us where stores and entertainment and post offices are located. Kummis also act like a buffer between Finnish culture and our own customs for the first couple of weeks, teaching us to be polite and stay out of trouble while we adjust.
Even so, culture shock hasn't worn off yet, and I'm not used to the little differences between Finland and America. Finns like rules, and they like to follow them. I still can't believe I saw a group of locals wait for the crossing signal before crossing a completely empty street.
But there is hope. I'm not a big fan of McDonald's, but seeing that familiar golden M in a sea of foreign words and ways is surprisingly comforting. Eating has been fun too; a lot of food at the grocery is familiar, but some is different.
Cultural immersion may be gradual, but climate immersion is not. There isn't nearly as much snow here as at Tech; only six inches on the ground and no new snow since before I arrived. It might just be that it is too cold to snow. Since I landed, the temperature has stayed below minus 5 degrees Fahrenheit, with two full days below negative twenty. Being a Husky has paid off though; despite the cold, I manage to stay warm every time I go outside.
The sun is also conspicuously absent from the city sky, hiding behind treetops while it's above the horizon. "Above the horizon" may be a bit of a stretch, since daylight only lasts from 9:30 a.m. to 3:30 p.m. Suddenly losing three hours of light made sleeping hard. At first, my body clock seemed to have given up entirely, but each night is more restful than the last.
Speaking of daylight, mine is gone for the day, and I have more Finnish culture to absorb. Hyvästi! (Goodby!)
Michigan Technological University is a public research university, home to more than 7,000 students from 60 countries. Founded in 1885, the University offers more than 120 undergraduate and graduate degree programs in science and technology, engineering, forestry, business and economics, health professions, humanities, mathematics, and social sciences. Our campus in Michigan's Upper Peninsula overlooks the Keweenaw Waterway and is just a few miles from Lake Superior.