International Food Coming to Campus - First Lunch Will Help Haitian Relief
By Jennifer Donovan | Published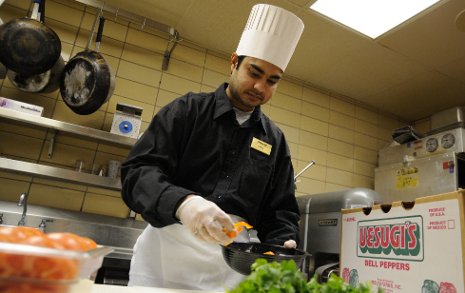 It's called Khana Khazana in Hindi. Or Alimentación del Tesoro in Spanish. 食品寶藏 in Chinese; Продовольственная сокровищ in Russian; and Food Treasure in English. But Khana Khazana by any other name is coming to lunch at Michigan Tech, beginning this Friday, Jan. 29. And the proceeds will benefit Haitian relief.
A project proposed by international students Sahil Thakkar and Safayat Alam and enthusiastically adopted by Eric Karvonen, executive chef, and Matt Lean, associate director of retail dining for Dining Services at Michigan Tech, Khana Khazana will be an international food booth in the Memorial Union Commons. Student chefs from various countries will cook, and every Friday, the booth will offer a different international menu.
A full meal, including drink, will cost $6. Dishes also will be available a la carte.
All proceeds beyond expenses for the first lunch—approximately $3 per plate—will be donated to Haitian relief, according to Lean.
Some of the international meals will focus on a single ethnic cuisine. Others will combine foods from various countries.
"Eating is an adventure, and more and more people want to eat more diverse foods," said Karvonen. He said he believes Michigan Tech is one of the first universities to offer a regular ethnic menu in its main campus dining facility, cooked by students from the countries represented.
The third International Food Festival in November was such a success, followed by an international food tasting in the MUB in early December, that "this is the next logical step," said Bob Wenc, the International Club advisor from International Programs and Services.
"There are limited opportunities to eat authentic ethnic food in the Houghton area, and people are hungry for this," said Thakkar, publicity chair of the International Club and an enthusiastic Indian cook.
An undergraduate in electrical engineering technology from India, Thakkar will cook the first Khana Khazana meal: egg bhurji, featuring eggs, onions, tomatoes and spices, served with bread; mixed spice veggie pulav with vegetables and rice; Sahil's fruit salad, which includes mangoes, apples, bananas and blueberries; and chai (Indian spiced tea). Other international students will cook on future Fridays. Dining Services hopes to see students cooking ethnic specialties from all over the world.
"The success of Khana Khazana all depends on the students," said Lean, "If they become excited and involved, they will support the booth, and I believe others will too, from Michigan Tech and the surrounding community."
Khana Khazana and other food services at Michigan Tech are open to the public as well as the campus community.
Michigan Technological University is a public research university, home to more than 7,000 students from 54 countries. Founded in 1885, the University offers more than 120 undergraduate and graduate degree programs in science and technology, engineering, forestry, business and economics, health professions, humanities, mathematics, and social sciences. Our campus in Michigan's Upper Peninsula overlooks the Keweenaw Waterway and is just a few miles from Lake Superior.